How to Prevent Infection When Flying
How to prevent infection
when flying

One thing that is sure to derail well-laid travel plans is an illness, and with the recent outbreak of Coronavirus (officially named COVID-19), it's no wonder travellers are taking extra precautions to protect their health. Learn how to minimise your risk of viral infection on a plane by building healthy habits and choosing your seat wisely based on our tips below.
Is Flying Putting You at Increased Risk of Infection?

Flying can increase the risk of viral infection, but not for the reason you may think. Most people assume that the recycled air in an aircraft is what circulates viral bugs and increases the chances of illness. However, cabin air can be much cleaner than re-circulated air in your home or office. The risk of catching a viral infection on an aircraft is very low as planes are fitted with surgical-grade air filters. Air is also circulated much faster in an aircraft and is completely refreshed every two to three minutes.
What can put you at risk of infection is being close to someone who is sick, and what increases that risk on a flight is the fact that you share the same space for several hours while you eat, drink and sleep.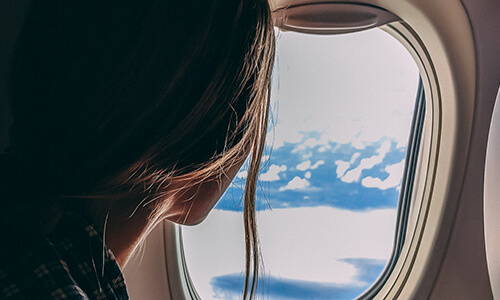 What Should You Bring on a Plane to Stay Healthy?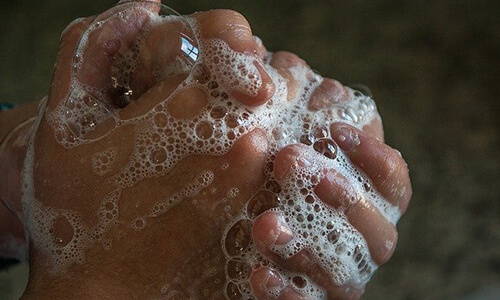 Practising good hygiene is the best way to protect yourself from illness at any time: that means washing your hands with soap and water before eating and after using the bathroom. On a flight, it is important to take it one step further as you will be sharing common spaces with many other people. This is especially true for preventing the spread of Coronavirus, which can also be transmitted through the transfer of infected droplets left on a surface such as doorknobs or tables.
This is why you should pack extra hand sanitiser to use after you wash your hands, before you eat, and before you touch your face. A spray sanitiser can double as a disinfecting spray to sanitise your tray table and utensils, otherwise, sanitising wipes will also work. Just remember to keep liquids and gels to within the carry-on luggage restrictions (usually less than 100ml). It's also a good idea to pack tissues and a small garbage bag to put them in after use if you need.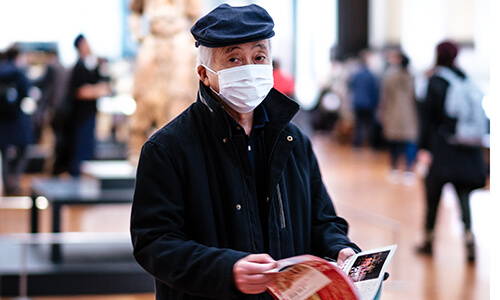 A protective face mask is not necessary for healthy travellers and is only recommended for those who are coughing or sneezing or taking care of someone that presents these symptoms. To use a mask effectively, it must cover your nose and mouth without any gaps around your face. It should be removed once it is damp and disposed of immediately. When removing a mask, do so by the straps. Avoid touching the actual mask to minimise the risk of spreading droplets onto your hands. Also wash and sanitise hands before you put a new mask on and after you take an old one off.
What Can You do During the Flight to Stay Healthy?

To stay healthy on a flight, be very diligent about sanitising your hands and your surroundings. Avoid touching other items or part of a plane as much as possible and if you do, make sure you wash and sanitise your hands afterwards. Also, sanitise your hands when you exchange objects with the flight attendants as their hands will come into contact with many other passengers' items.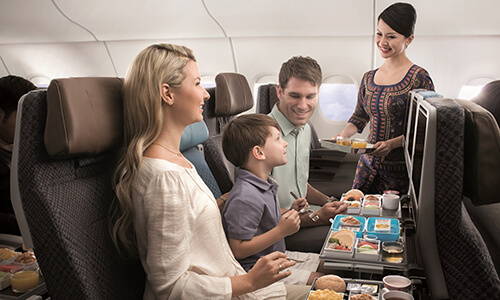 What to do if You Must Travel Sick

If you are sick or start to see symptoms of illness before your flight, re-think your need to travel and see your doctor. The best way to prevent the spread of any infection is to isolate yourself if you are sick. But, if you must travel while you are sick or start to present symptoms while you are away, then do your best to isolate yourself. Let the cabin crew know that you are feeling unwell and ask if there is an isolated seat available for you.
You should then wear a mask to catch cough or sneeze droplets and change it as soon as it is damp (see above for how). If you don't have a mask, sneeze or cough into a tissue and put it into a garbage bag straight after. Don't leave used tissues around as any surface it touches could become infected. If you don't have a tissue, cough or sneeze into the crease of your elbow. Always sanitise your hands after you sneeze or cough to prevent the spread of droplets to items that you may touch.
It is also a good idea to turn the overhead vents on high if you are unwell. The stream of air will help direct any droplets to the ground as opposed to around you, which will minimise the risk to other passengers.


Lastly, you should disinfect any common surfaces that you come into contact with such as doorknobs and food trays. If you can, place your items straight into the garbage instead of handing them back to the cabin crew to prevent passing any germs onto them. If this isn't possible, disinfect the items before you hand them over.
Avoid travelling if you are sick.





Pack plenty of sanitiser, tissues and face masks even if you are not sick.





Wash and sanitise hands frequently, especially after using the bathroom and before eating.





Keep your distance from other passengers and sit in the window seat if possible.
---
2 comments
---
---