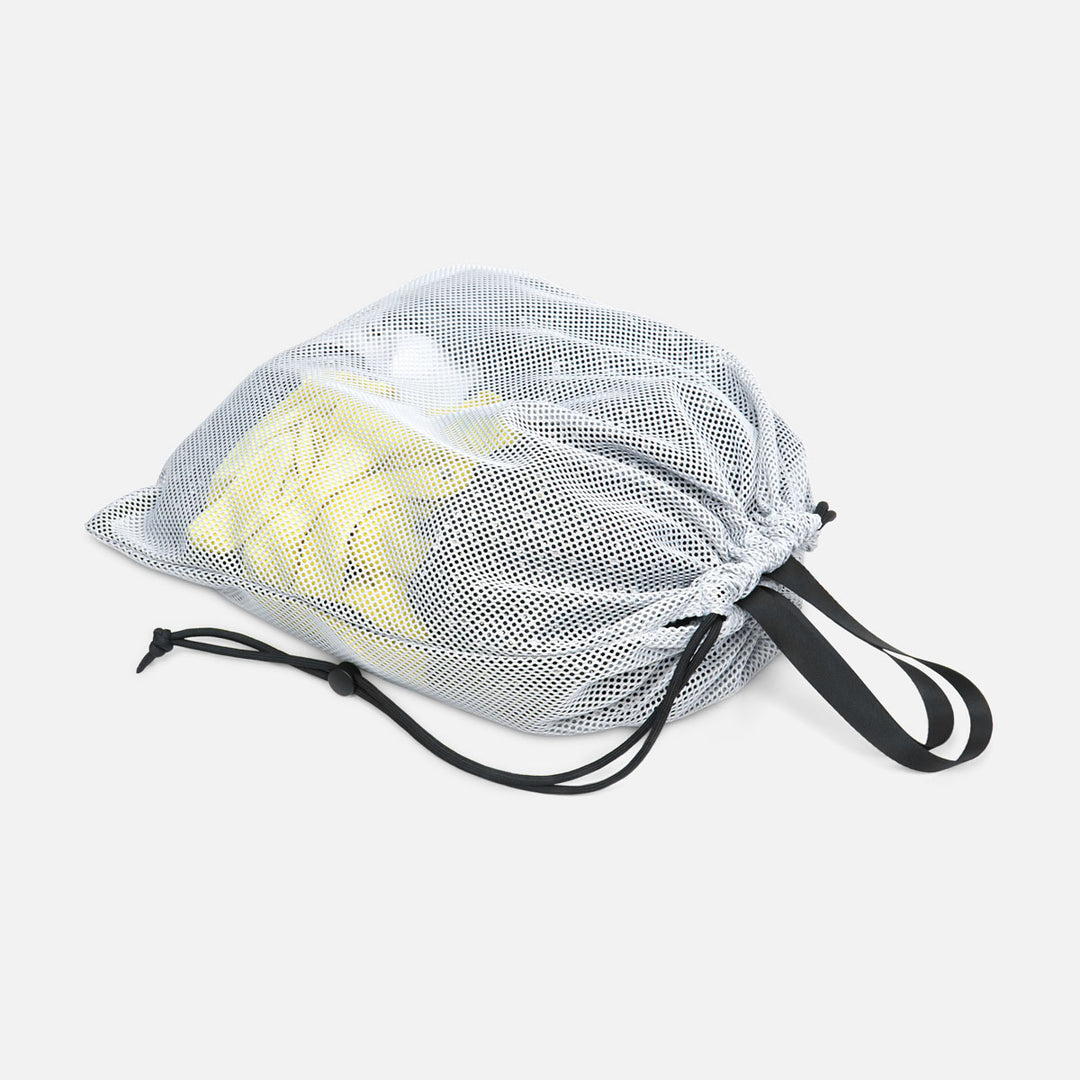 Drawstring Mesh Laundry Bag
In stock, ships from Melbourne in 1-2 business days

Free Shipping over $70, AU & NZ. We ship worldwide.
---
Perfect for sorting clean & dirty clothes
Drawstring with toggle keeps items contained
Carry handles for easy transportation
Premium materials made to last
The easy way to separate your clean and dirty clothes on your travels! No more mixing smelly, sweaty clothes in with your clean clothes, saving you time finding a fresh outfit to wear. What's more, it'll stop you accidentally rewearing soiled clothes and looking less than fresh. The handy drawstring top ensures your dirty laundry stays put, while the carry handles make it easy to transport straight to the laundromat or laundry room. The Drawstring Mesh Laundry Bag from Zoomlite is lightweight, easy to carry and folds away into a compact size, so it is perfect for travel or even to use in your gym or sports bag.
Breathable - Mesh material allows your items to air, minimising musty smells
Secured drawstring - Drawstring closure to keep items from falling out, spring loaded toggle secures the drawstring against unexpected opening
Multiple uses - Handles allow you to use it as a carry tote or beach bag, or simply for easier carrying to the laundry
Spacious - Roomy interior allowing you to fit all your items easily
Use anywhere - Suitable for use in a variety of travel bags, including carry-on and check-in suitcases, duffle bags and backpacks
Carry handles - Easy grab handles so that you can transport your mesh bag with ease
Dimensions: 46 x 40 x 2 cm
Weight: 160 grams
Material:

Polyester Mesh Outer
Webbing Handles

Exterior Details:

Drawstring closure
Toggle to keep bag closed

Warranty: 1 year warranty against manufacturing defects covering materials and workmanship
Origin: China
At present, we only have 1 size available for the Drawstring Mesh Laundry Bag. As your trip wears on you may like to use a large packing cube to hold extra laundry when your mesh bag becomes full
Yes, you can fold this bag to store it
We recommend that you hand wash your bag with soap and water. Hang it out to line dry.
At present this is only available in Grey
The breathable mesh of this bag helps to air out your dirty laundry. When travelling you don't get to the laundry as readily as at home, so it's best to keep dirty clothes away from the clothes you wish to wear.
We now offer a bulk discount when purchasing 6 or more individual cubes from our packing range, including the Bra & Underwear Cube. This way you can choose what items to make up your set, such as Garment Folders, Shoe Cubes, Medication Cubes, Toiletry bags or individual packing cubes
Your order will be sent within 1-2 Business days from our Melbourne warehouse.
Please refer to your shipping confirmation email to track your order. If you have any questions, please contact our Customer Care team anytime!