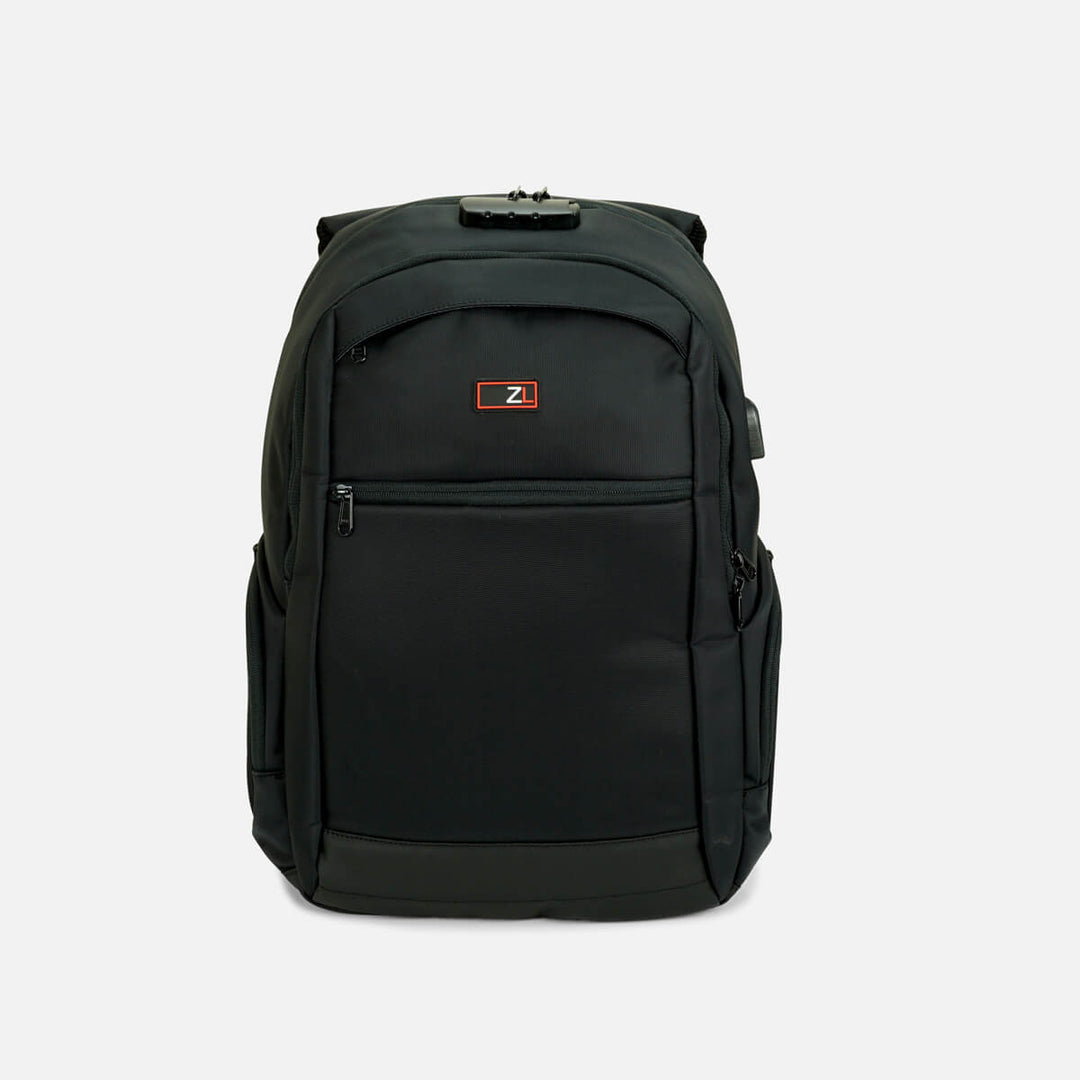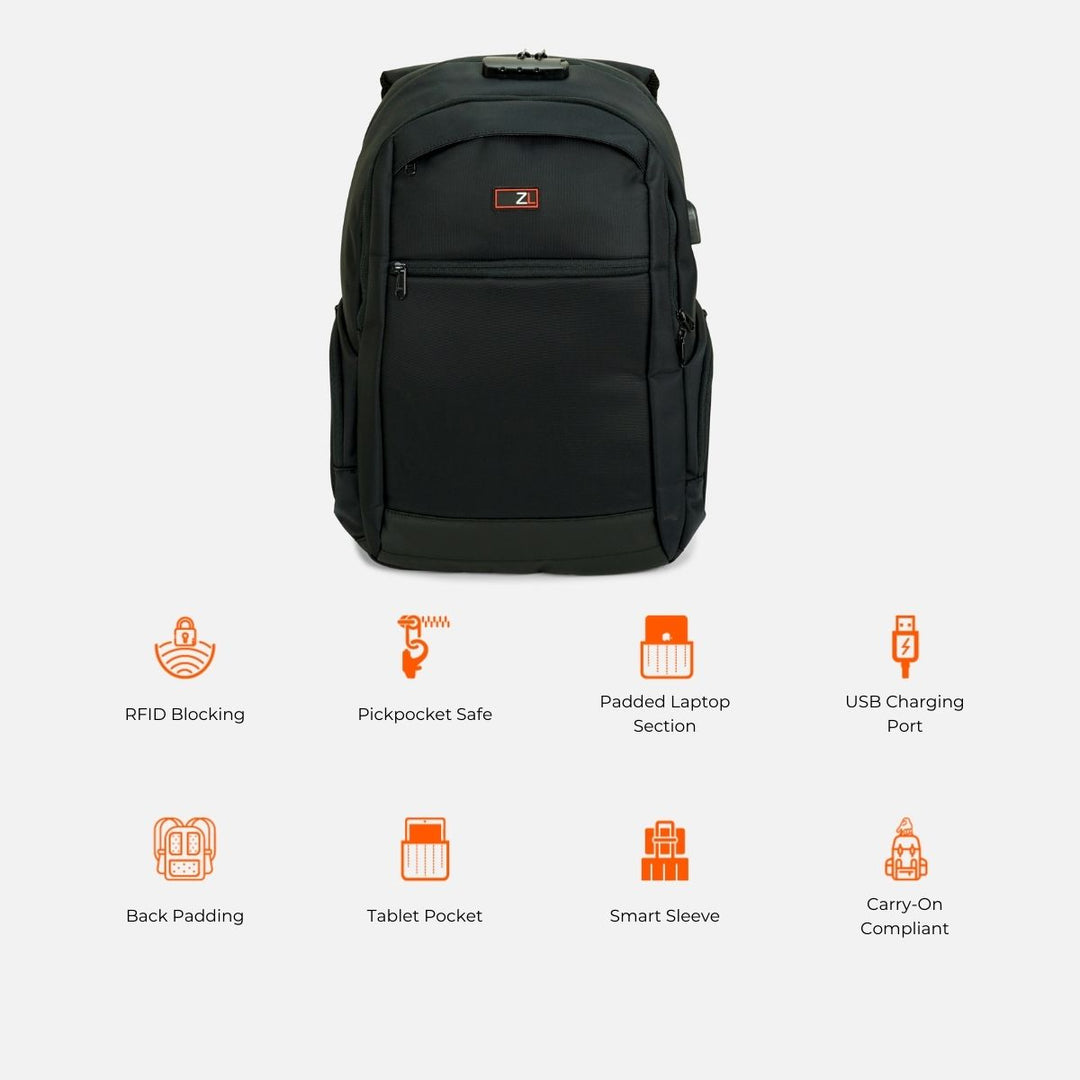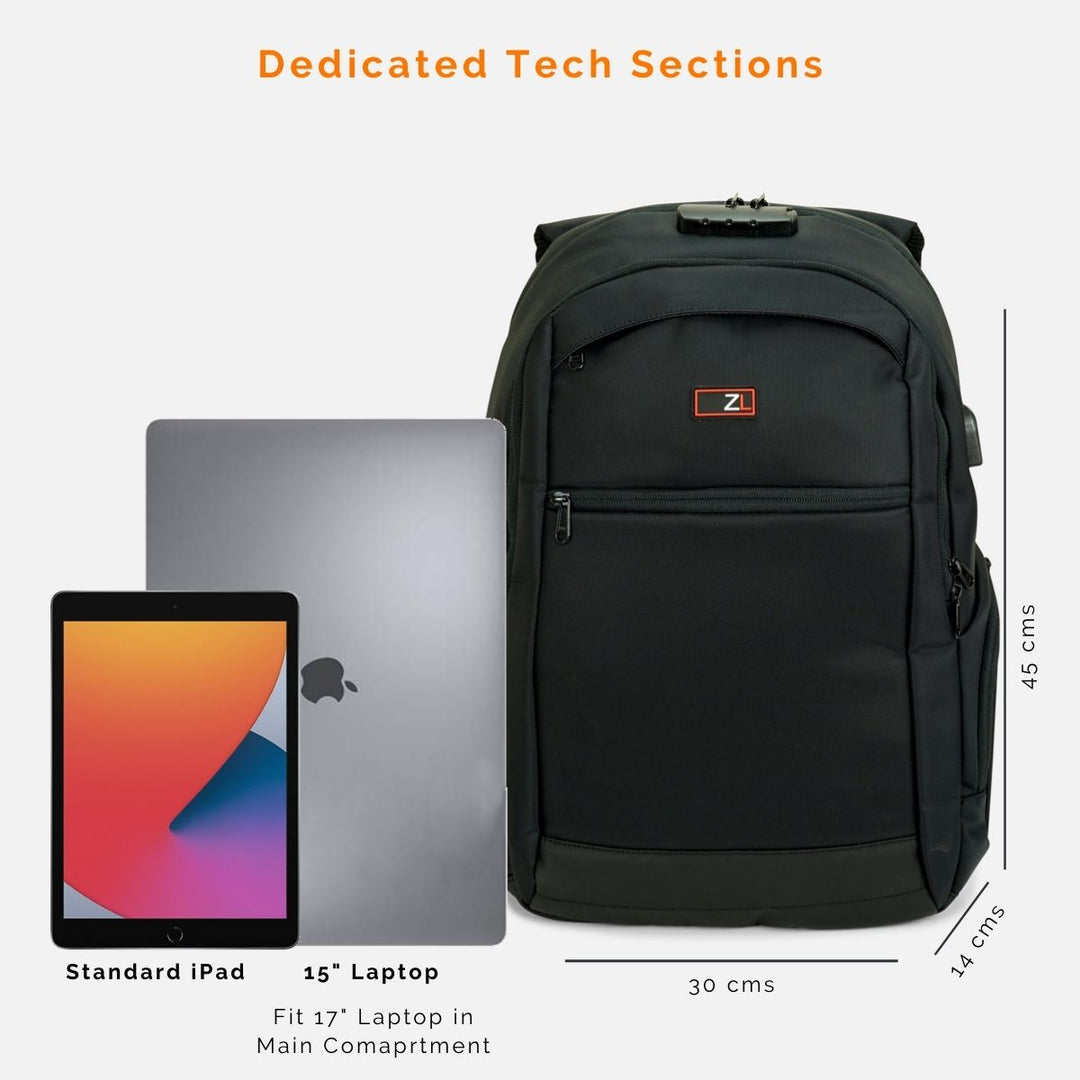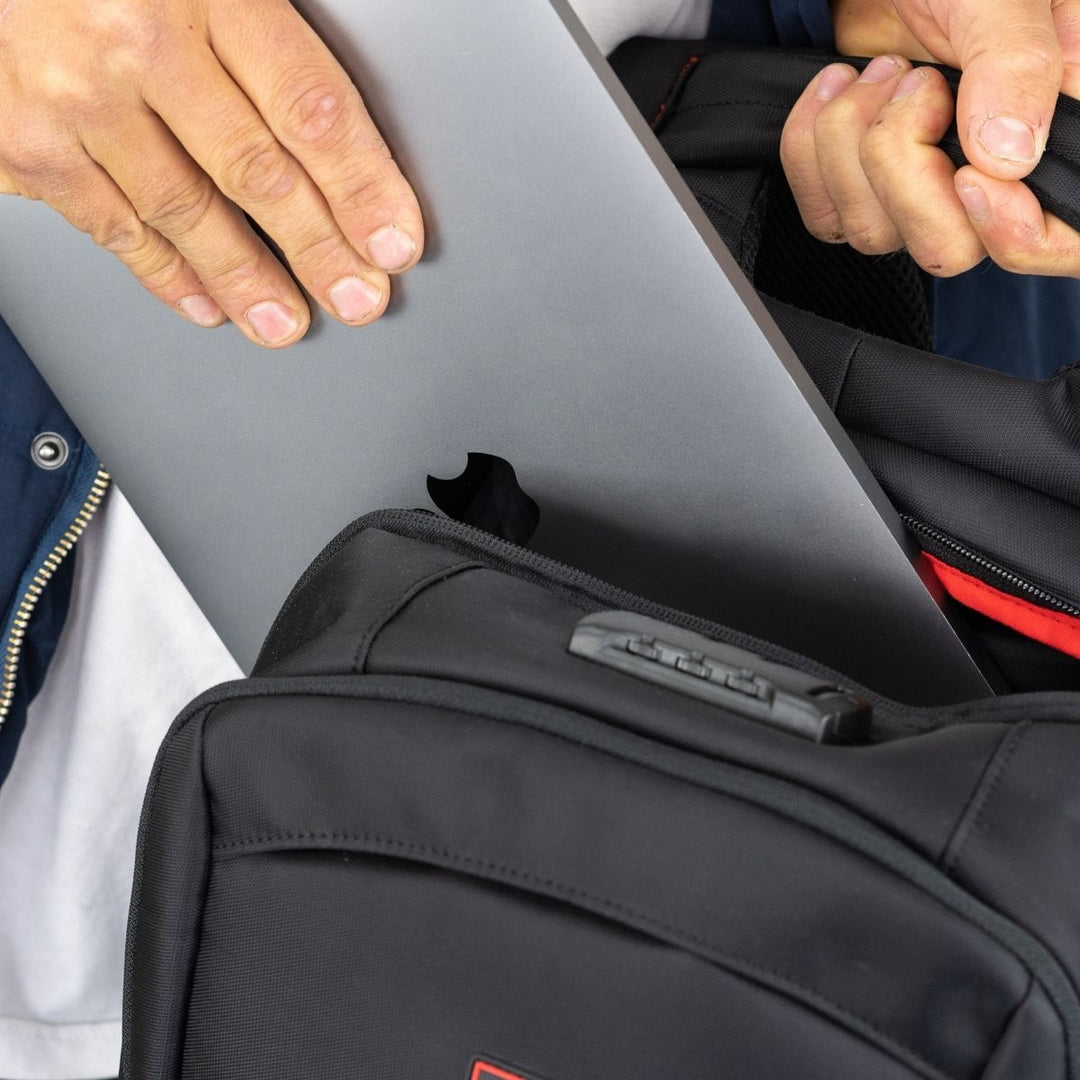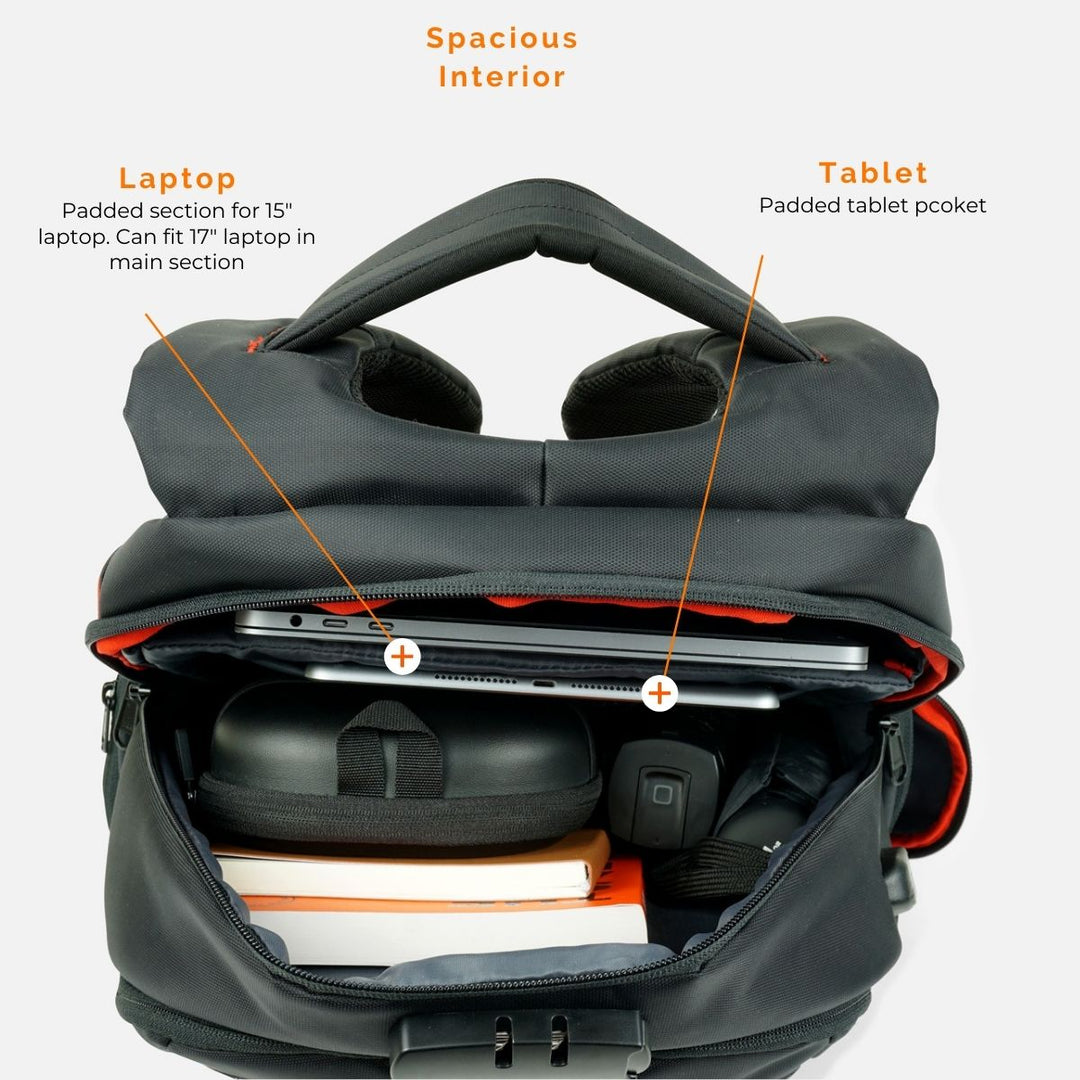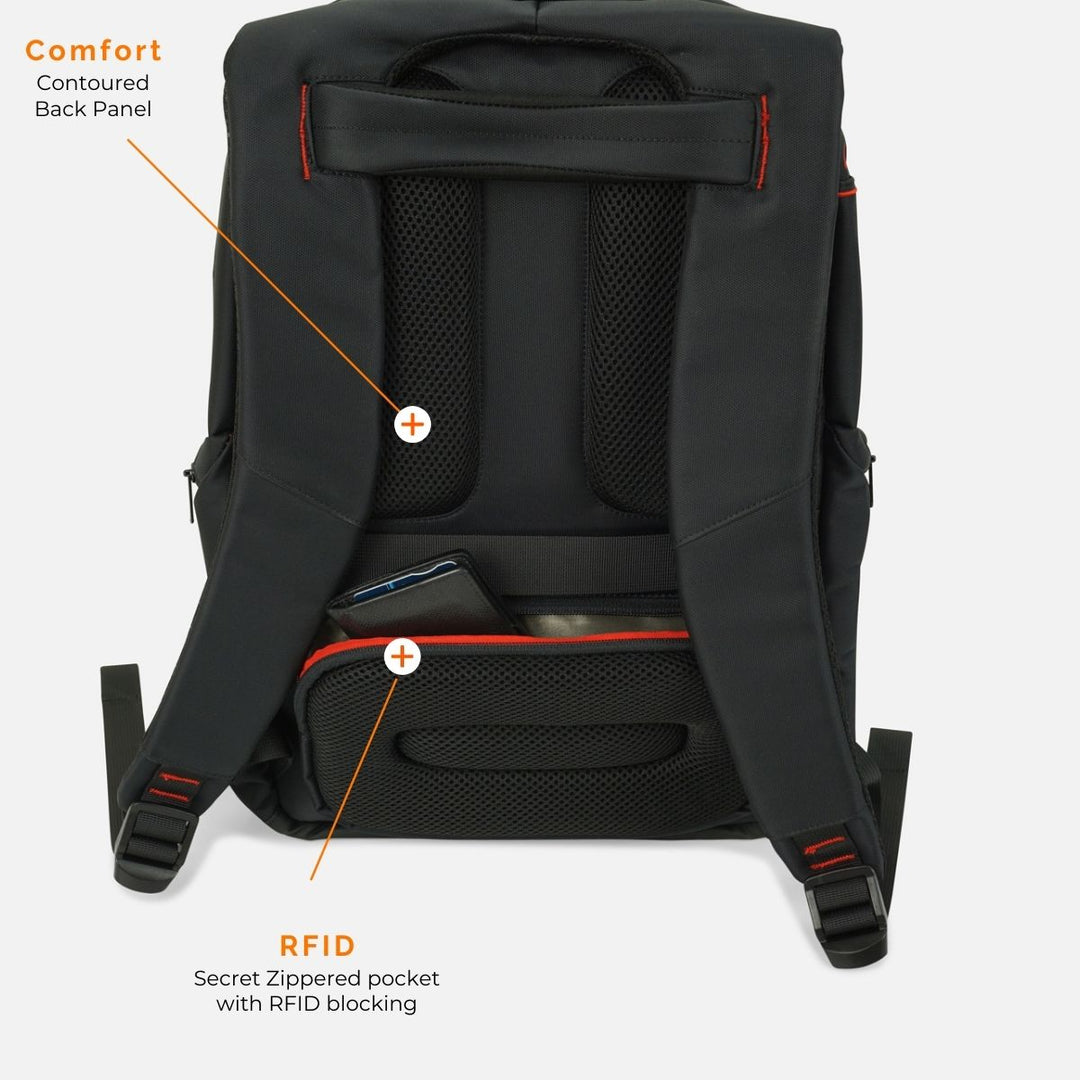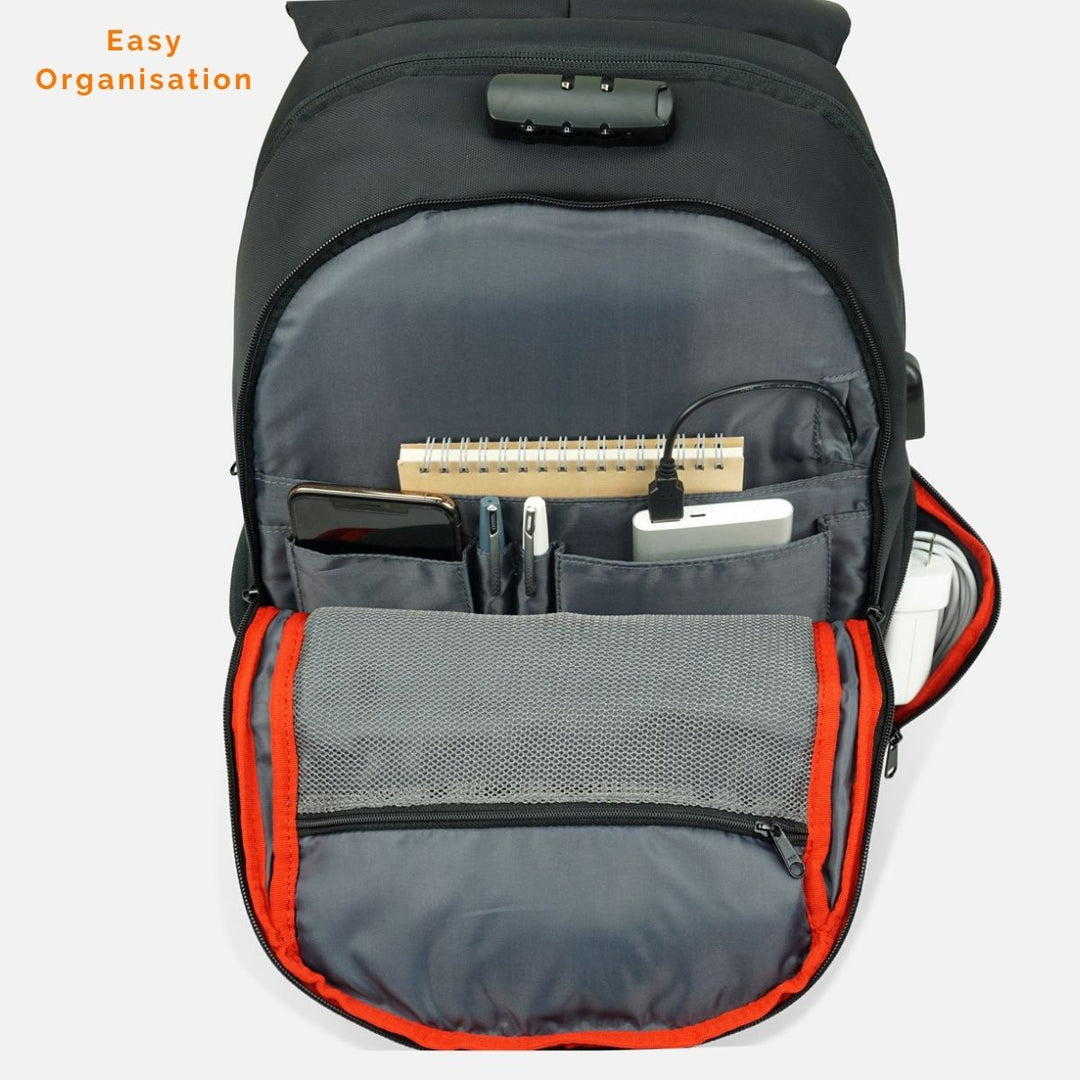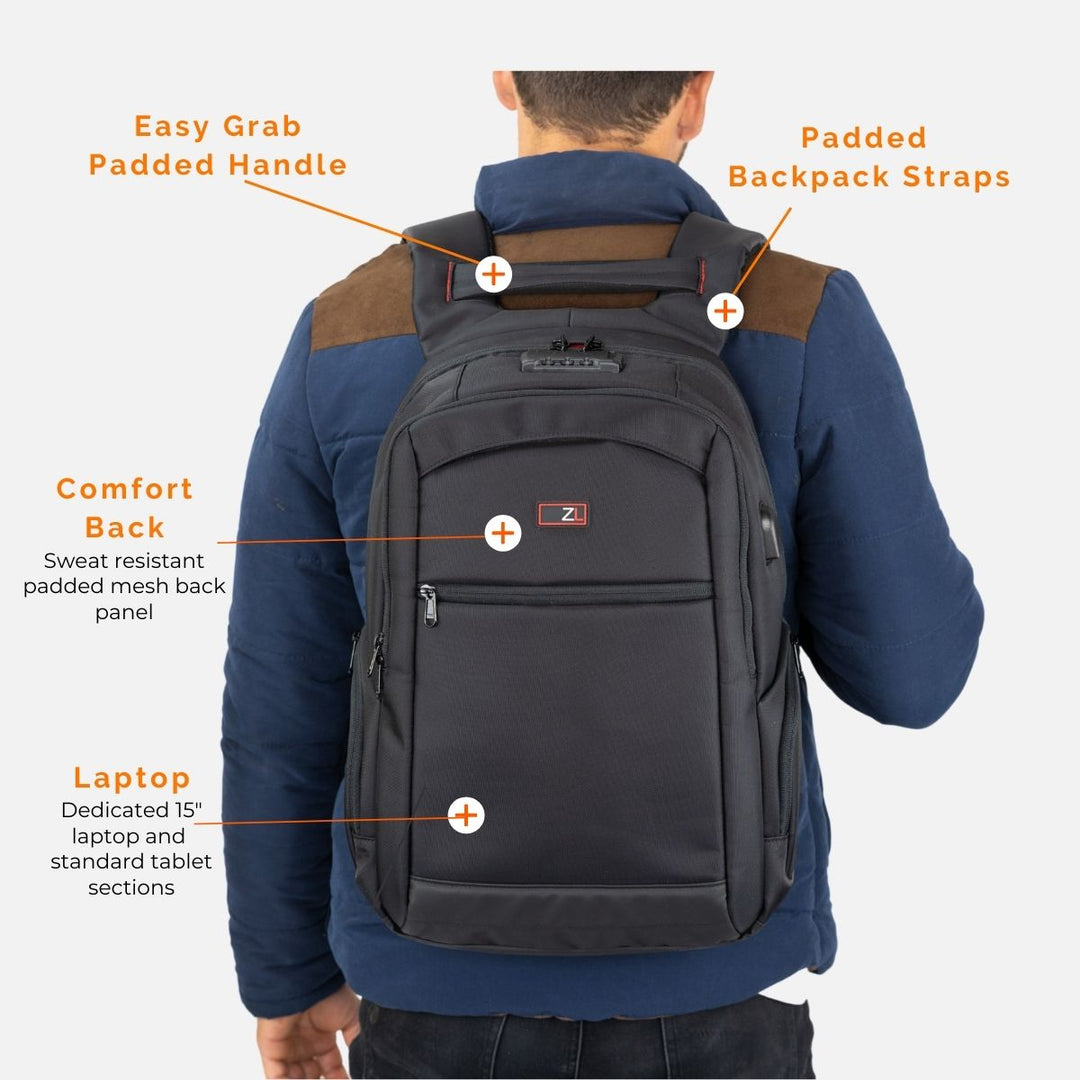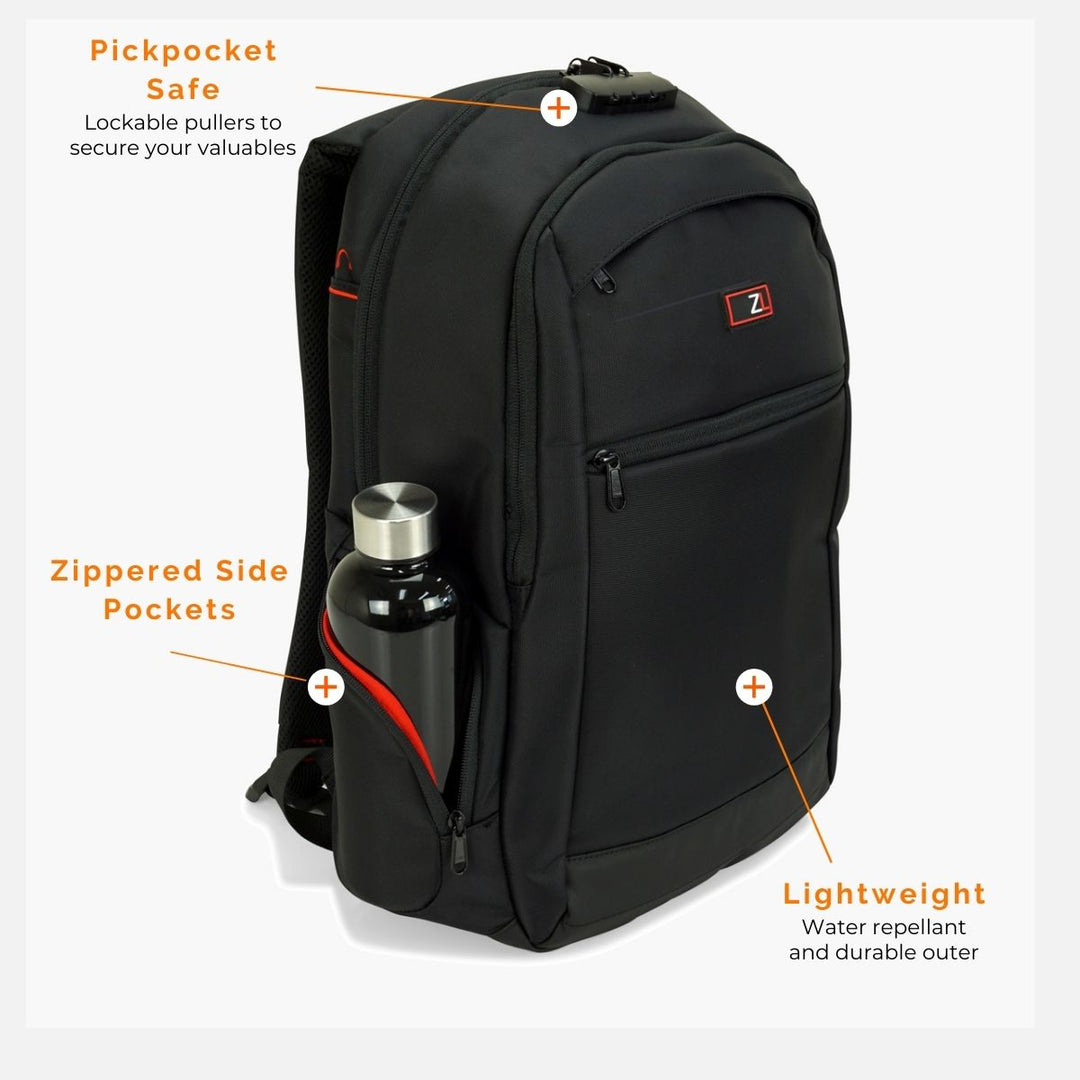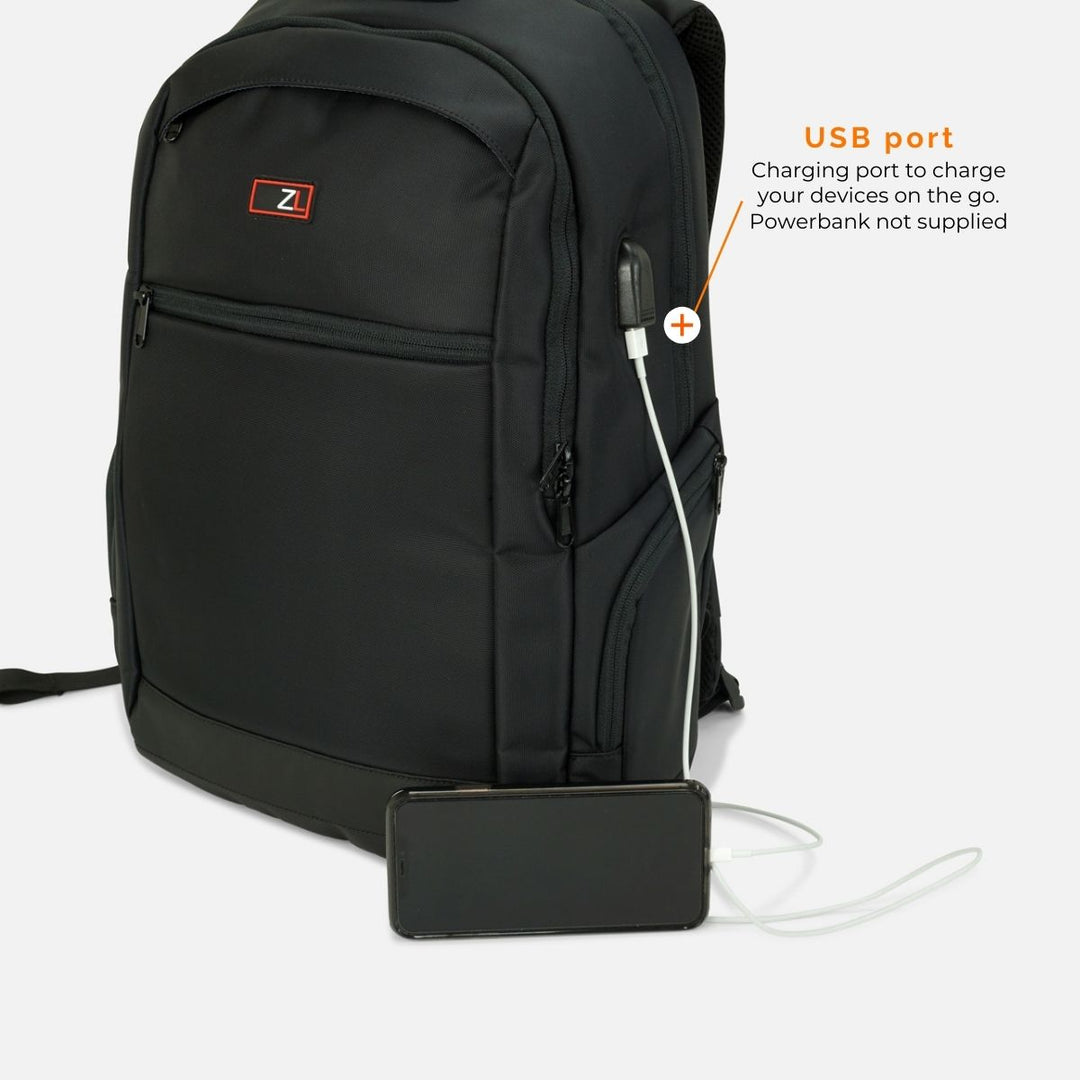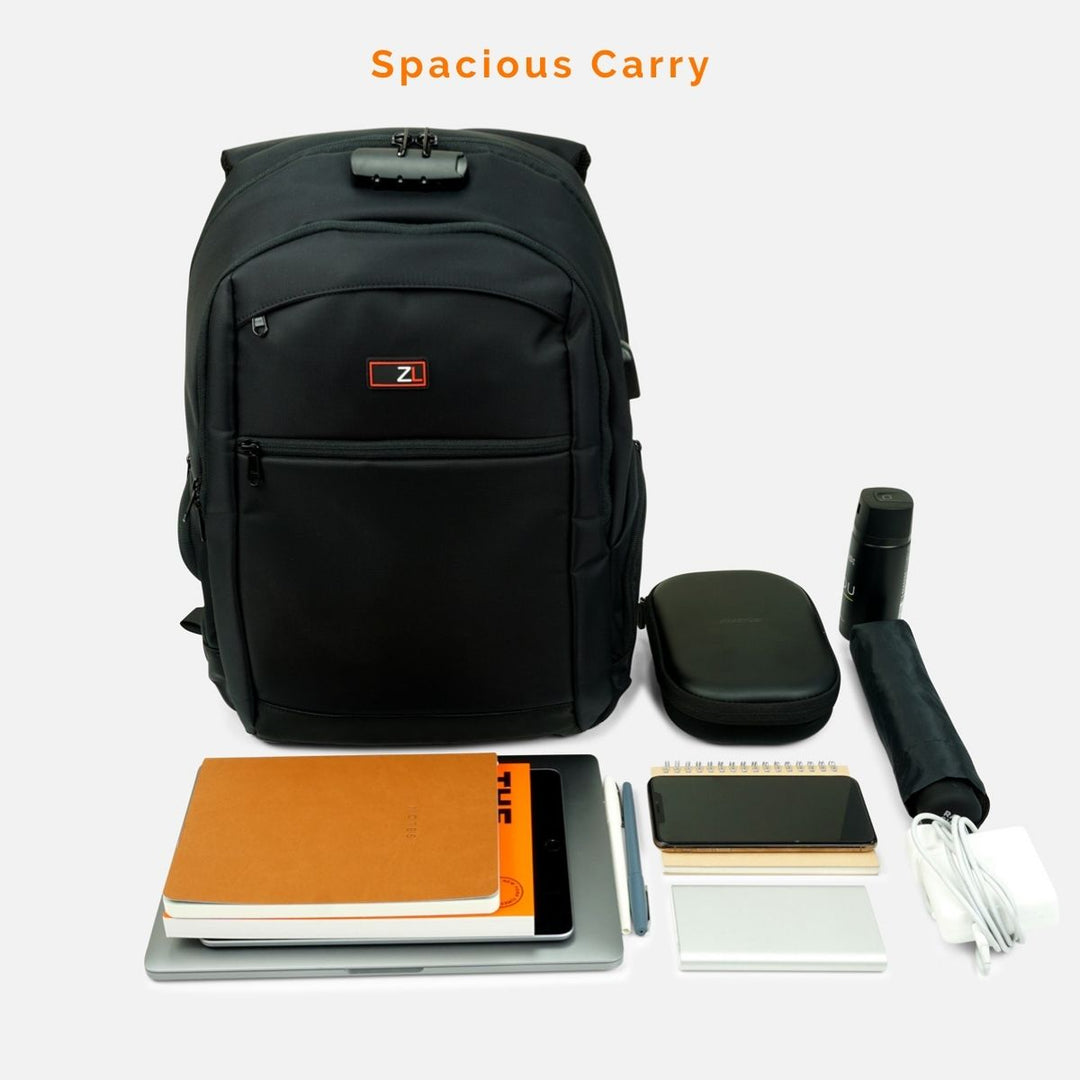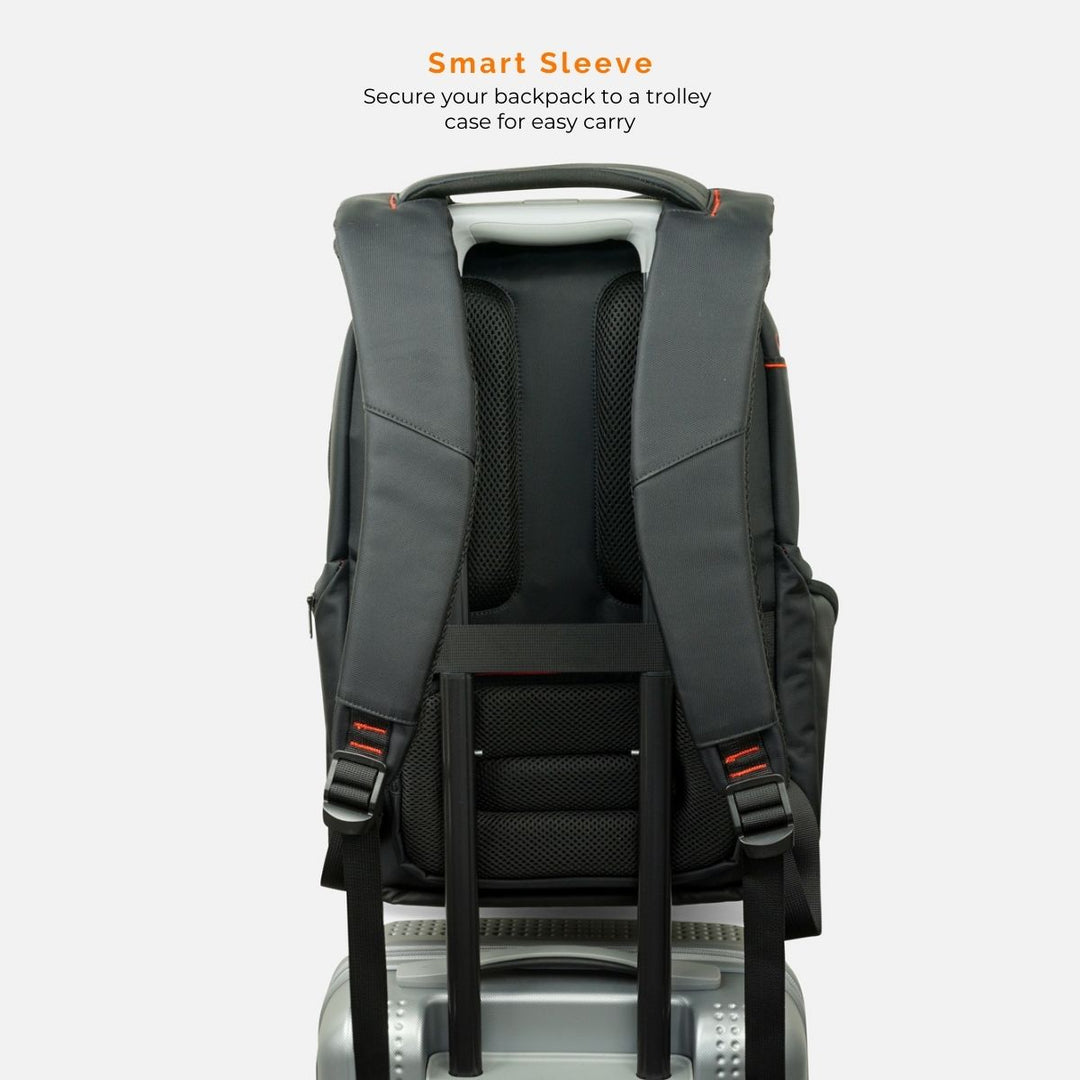 Commuter Laptop Backpack
Regular price
$136.00
Sale price
$55.00
/
In stock, ships from Melbourne in 1-2 business days

Free Shipping over $70, AU & NZ. We ship worldwide.
---
Fits up to 17" laptop & standard iPad
Dedicated laptop section for devices up to 15"
USB charging port to charge devices on the go
5 outer pockets for water bottles & essentials
RFID Blocking & pickpocket safe
This durable business backpack is loaded with features to securely carry your laptop and belongings on any commute. Whether you're carrying your tech for work, uni, school or play, you'll love the Commuter Laptop Backpack. Your tech is covered with a tablet pocket and padded 15" laptop pocket. You could also fit a 17" laptop in the main compartment. An external USB port even lets you charge your phone or other devices on the go! The multiple compartments and organiser pockets mean that everything has a place, allowing you to find things fast. The water-repellent polyester outer, hidden RFID pocket and fixed combination lock provide added protection, so all your bases are covered.
Stability & comfort - contoured back panel design & padded support straps ensure maximum comfort even when carrying all day
Durable material - water repellent lightweight outer means your backpack will last you longer
Tech protection - secure your 15" laptop and tablet snugly in dedicated compartments or carry a 17" laptop in the main section (sleeve not provided)
Easy organisation - multiple storage compartments providing ample storage space for devices and additional accessories
Work on the go - charge your phone or laptop with the built-in external USB port (powerbank not supplied)
Carry handle - soft padded comfort-grip grab handle with unique design that helps stop the shoulder straps from sliding off your shoulders
Pass-through trolley strap - go hands-free by attaching backpack to your suitcase trolley handle
Pickpocket-safe - compartments that stop pickpockets getting easy access to your belongings, with the help of the fixed combination lock
RFID-blocking - dedicated pocket protects your passport and credit cards from modern-day data skimming thieves
Dimensions: 45 x 30 x 14 cm
Weight: 1.03 kg
Capacity: 18.9 L
Material:

Lightweight, water-repellent polyester outer
Dark grey polyester lining

Interior Details:

Front zippered compartment with 1 large mesh zip pocket, 3 open pockets, 2 pen slots
Main section with fixed combination lock, padded laptop &tablet pockets

Tech Fit:

26 cm x 21 cm fits a standard iPad
40 cm x 28 cm, padded pocket, fits most 15" laptops

RFID Blocking Lining: Concealed rear pocket 14 x 23 cm
Anti-Theft Features: RFID Pocket, Lockable Sections
Exterior Details:

Red stitching detail
2 Quick access front zip pocket
2 side storage zip pockets (14 x 11 cms)
Hidden external RFID zip pocket
Smart sleeve webbing strap
Contoured padded back panel
USB charging port with cable (powerbank not supplied)
Headphone port

Shoulder Strap: Padded contoured adjustable backpack straps (50-92 cms) with built in easy grab padded handle
Handle: Comfort Padded Easy Grab handle
Warranty: 1 year warranty against manufacturing defects covering materials and workmanship
Origin: China
This bag contains 2 anti-theft features - a pick-pocket safe zipper lock and an RFID blocking pocket.
Radio-Frequency Identification (RFID) is the use of radio waves to read and capture information stored on a tag attached to an object. A tag can be read from up to several feet away. These tags include the electronic chips on modern day credit cards and passports. These chips contain sensitive and personal data, that can be misused if they fall into the wrong hands.
Absolutely. This backpack has a dedicated pocket that has been lined with a special material that has been designed to block the transmission of signals from your credit cards and passport to identity thieves with scanners. You must put your credit cards and passport in this dedicated pocket to secure your credit cards and passport. On this backpack, the RFID blocking pocket is on the back. It has golden lining.
The main compartment has a fixed combination lock so that you can lock up your valuables.
The USB port enables you to charge your devices with your favourite power bank (not supplied). The power bank can be placed inside the backpack with the supplied cable connected to the external USB port from the inside. Then you can plug in your charger cable to the USB port from the outside and charge a device in your hand or pocket. This would usually work best on a phone in a pocket, or a larger device when the backpack is sitting stationary, such as flat on a table.
The cable is designed to allow you to charge your phone or smart device in your pocket from a power bank inside your locked bag. You need to provide your own device and power bank.
This backpack is a great business backpack, daypack, even an overnighter. You can fit both a 15" laptop and a standard size tablet in there. Plus a water bottle, phone, wallet, camera, reading material and a change of clothes.
Yes, the external side zip pockets can fit standard bottles
The outer material of this backpack is made from water-repellent polyester. It is perfect for those occasions when you are caught in an unexpected rain shower. However, if you accidentally dropped your bag in a pool of water, or if the bag gets soaked in a heavy downpour then water could seep through the zippers and the edges of the various compartments.
The instructions for setting the combination lock are as follows. The original number is 0-0-0. To set your personal combination, follow these steps: Put the dials at its original numbers 0-0-0; Press down the reset button (next to the combination numbers - you may need a pin to do this) until you hear a "click" sound Set your combination by turning the dials, for example, 8-8-8. Then push the 'open' button (main button on the end). This will make the reset button re-engage and you will hear a "click" sound Now you have finished setting your personal combination. Please remember your personal combination by heart or write it down in a safe place. Please repeat the above steps to reset the numbers. You need the current combination to change it to a new combination.
Your order will be sent within 1-2 Business days from our Melbourne warehouse.
Please refer to your shipping confirmation email to track your order. If you have any questions, please contact our Customer Care team anytime!