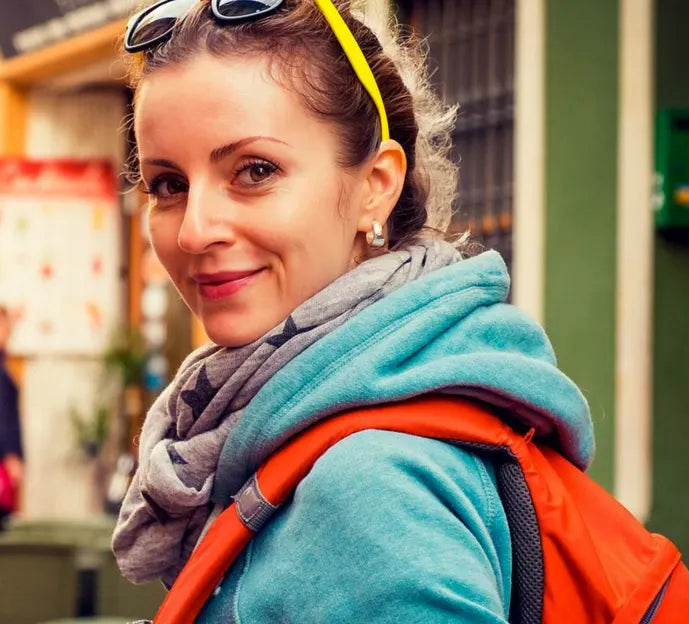 Don't let thieves steal more than just your valuables.
Irreplaceable memories, sentimental keepsakes, and precious photos are at risk too

Cut-Resistant Material
Vulnerable sections of Zoomlite anti-theft bags are reinforced with special military-grade fabric that are woven using high-density knitting machines.
This type of fabric has the highest cut rating possible – Level 5 – making it extremely resistant to slashing. This fabric is so tough - it is also used by homeland security and law enforcement agencies.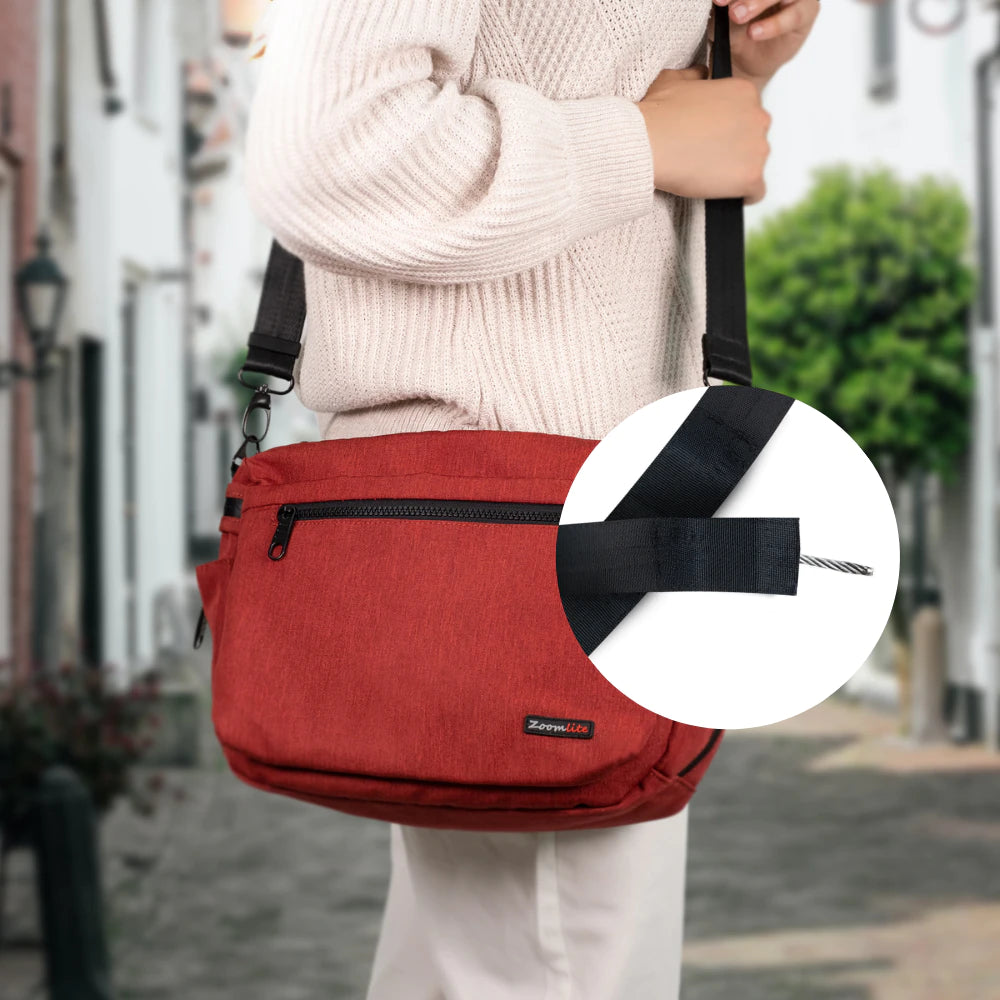 Deter Snatch & Run Thieves
Slash-Proof Strap
Bag snatchers frequently resort to cutting bag straps with knives before escaping with the bag and its contents.
Straps reinforced with concealed, flexible steel cables reduce the likelihood of this while remaining invisible to the eye.
They remain flexible and comfortable to wear while you are out and about, even after long periods of time.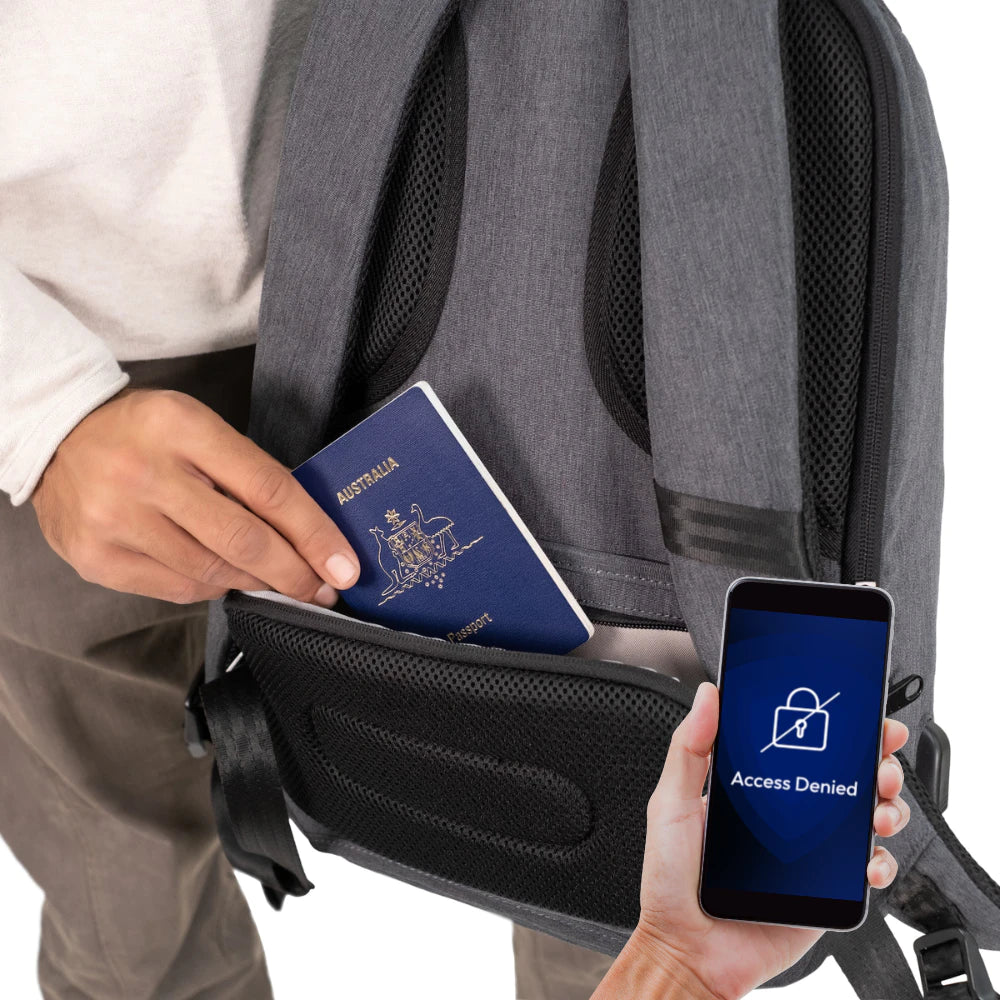 RFID Blocking
Card scanning and ID fraud are ever present dangers for travellers.
Modern day pickpockets can now silently download your personal credit card information and ID data easily with handheld "skimming" devices.
Dedicated sections/pockets lined with a special shielding material blocks the transmission of RFID signals to keep your information safe.

Lockable Pullers
Pickpockets love an easy target. Most pickpocketing happens in crowded areas like tourist attractions and public transport.
It takes only a few seconds for a thief to easily unzip your bag and remove your valuables. Anti theft bags incorporate lockable zip pullers to make them extra secure.
Even experienced pickpockets will struggle to access your bag without your knowledge.
Research your destination prior to arrival for scams and thefts

Invest in an anti-theft bag to protect your possessions and valuables
Be aware of your surroundings and trust your instincts areas.
Always wear your bag cross body style, with the strap across your body, making it harder to steal
Avoid taking valuables in your travel bag when visiting markets, public events, festivals and crowded tourist areas

Keep a copy of your passport, ID and itinerary in a separate location.
Real Travelers, Real Results: See What Our Customers Say About Our Travel Bags
★★★★★

Very quick delivery

"This bag is exactly what I needed for my trip to Italy. The safety features make me feel more secure and the bag is stylish and big enough to carry all I need it to without being too big. Lots of pockets and the little torch will be handy to see what's in my bag when the light is low.."

Ruth T.
★★★★★

Felt Very Secure

"Bought to use in high 'pickpocket' areas in Europe - did not disappoint - but also need your wits about you of course! I like the added touch of the clip on the closed zipper"

Linda C.
★★★★★

Phoenix sling Awesome! 

"A great day pack. Excellent quality. Lots of pockets and sections thoughtfully places for all your travel needs. Nice size for carrying essentials, I even used it as my carry on bag! But you can't carry too much which helps keep the weight down. Good as a backpack but I also loved the secure feeling of carrying it across my front."

Kathryn B.
★★★★★

Wow oh Wow. Just Perfect for Me

" am so thrilled with this purchase. It will fit my needs perfectly being anti-theft, roomy but neat for carrying. I have been genuinely impressed with Zoomlite. This was my first purchase and their customer care was way above expectations. They promptly answered several queries and the offer of a no questions ask return policy made me feel extremely safe. I however so impressed with the quality of my new bag, I'm definitely not going to need that return policy. Thank you Zoomlite for all of your assistance. Full Marks.."

Jennifer A.
★★★★★

Finally a travel nightmare solution

I absolutely LOVE my packing cubes. It really has taken the stress out of packing, and as I am preparing to go to Europe and 3 different countries but multiple stops, and short ones, these are just magical. It will mean, and I can find what i want quickly and not get stressed out like I normally do. The different sizes are perfect for me, and it almost makes it fun to pack :) I just wish I found you years ago ! I will defiantly recommend you to all my friends and family. Thank you SO much.

Vibe W.
The best way to deter pickpockets is to ensure that they can't get into your bag easily. Zoomlite anti-theft bags have special clips which allow you to secure the zipper pullers of the bags. This makes it hard for even the most experienced pickpocket to get into your bag without you being aware of it.
Of course we would like to claim that our bags are cut-proof, but in reality that is simply impossible. Even though our bags are made with the best technology and highest grading of cut resistant fabric, if someone spent long enough trying to cut into them they would eventually make their way through.
After all it is fabric, not steel. If you want to keep your things safe from pickpockets or bag slashers, then our bags are a great solution. But if you're looking for an indestructible, cut-proof bag that can never be opened – buy a safe.
There are several reasons why we have chosen not to use Kevlar in the production of our anti-theft bags. The fabric we use for reinforcing our bags is significantly more resistant to cutting or slashing in comparison to Kevlar. The internationally recognised ISO cut resistant grading system gives fabric a score from 1 to 5, with Kevlar usually scoring a level 2 or in unique circumstances a level 3. The fabric we use scores a level 5, the highest cut resistant grading possible. Kevlar is also traditionally poor at reflecting UV and can weaken or discolour if exposed to direct sunlight.
RFID stands for Radio-Frequency Identification. It refers to a small electronic chip that stores information. This chip is found in most modern day paywave, paypass style credit cards as well as e-passports. RFID is also present in id cards and public transport stored value cards like Opal and Myki. The information stored on this chip can be read with the use of radio waves by using a reader from upto several feet away. The chip and reader don't have to touch. RFID is a technology that makes life more convenient, but can also lead to security and privacy issues. Criminals are able to read the sensitive personal data stored in RFID chips - such as credit card numbers, your personal details including name and date of birth. This information in the wrong hands can easily be misused. Hence, bags and purses with special RFID shielding material are able to prevent unauthorised scanning of your RFID cards and passports, preventing identity theft.
Zoomlite anti-theft bags have special dedicated pockets and sections that are made using a special shielding material. This blocks the unauthorised scanning of your credit cards and passports.
The protected areas are usually indicated with the RFID symbol printed on the lining of these areas. They vary between products and can be a large pocket or a complete zippered compartment. Please check your bag carefully to identify this special section.
Zoomlite anti theft bags and backpacks are designed to keep your valuables safe and secure when you travel. Current styling and trends ensure that they are functional and up to date. As such these bags are not limited to be used only when you travel. They can be used as an everyday bag while you are out and about the urban jungle.
No, the straps are not made of steel. They are made of the same material as the bag but have a flexible steel cable inlaid into the strap. The flexible cable coated with plastic is lightweight and invisible to the naked eye. The cable in no way makes the straps less comfortable to use. In fact it makes the strap very resistant to most cutters. Odds are that after a few tugs and slashes, most thieves would move on to an easier target.
Zoomlite anti-theft bags and backpacks are made from a recycled polyester fabric that is water repellant. They will ensure that your valuables inside stay safe if you get caught in a rain shower, but are not designed for prolonged soaking in heavy rain.