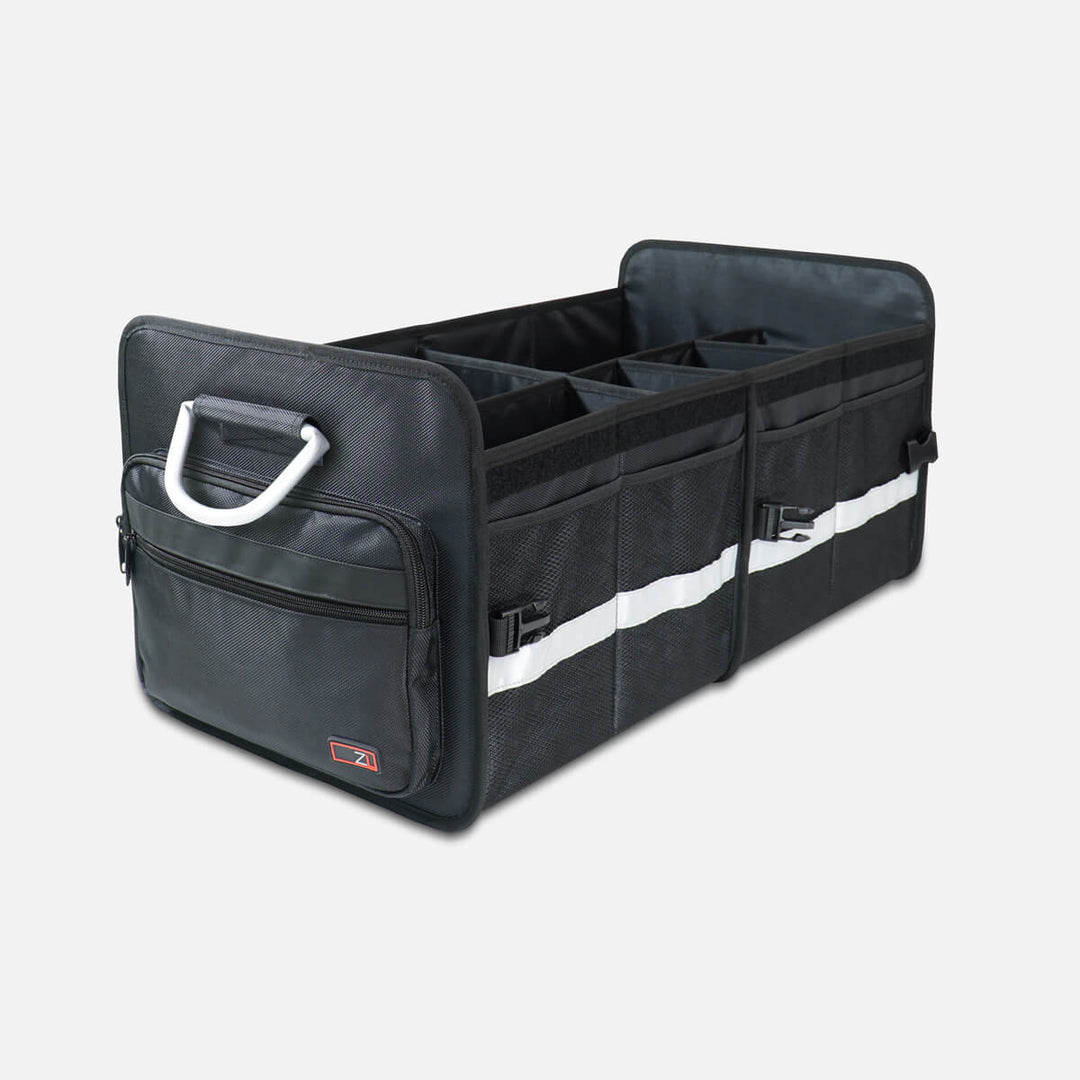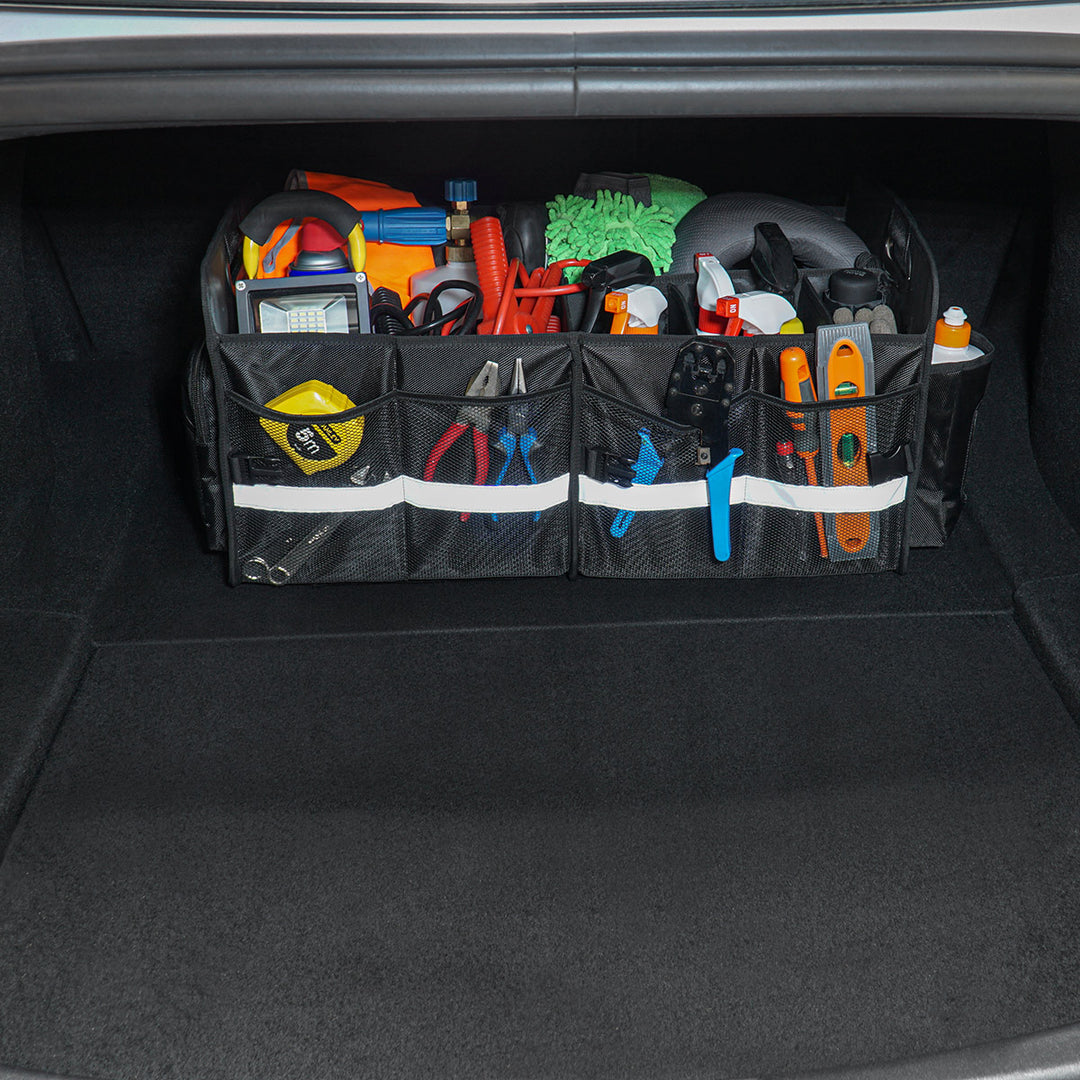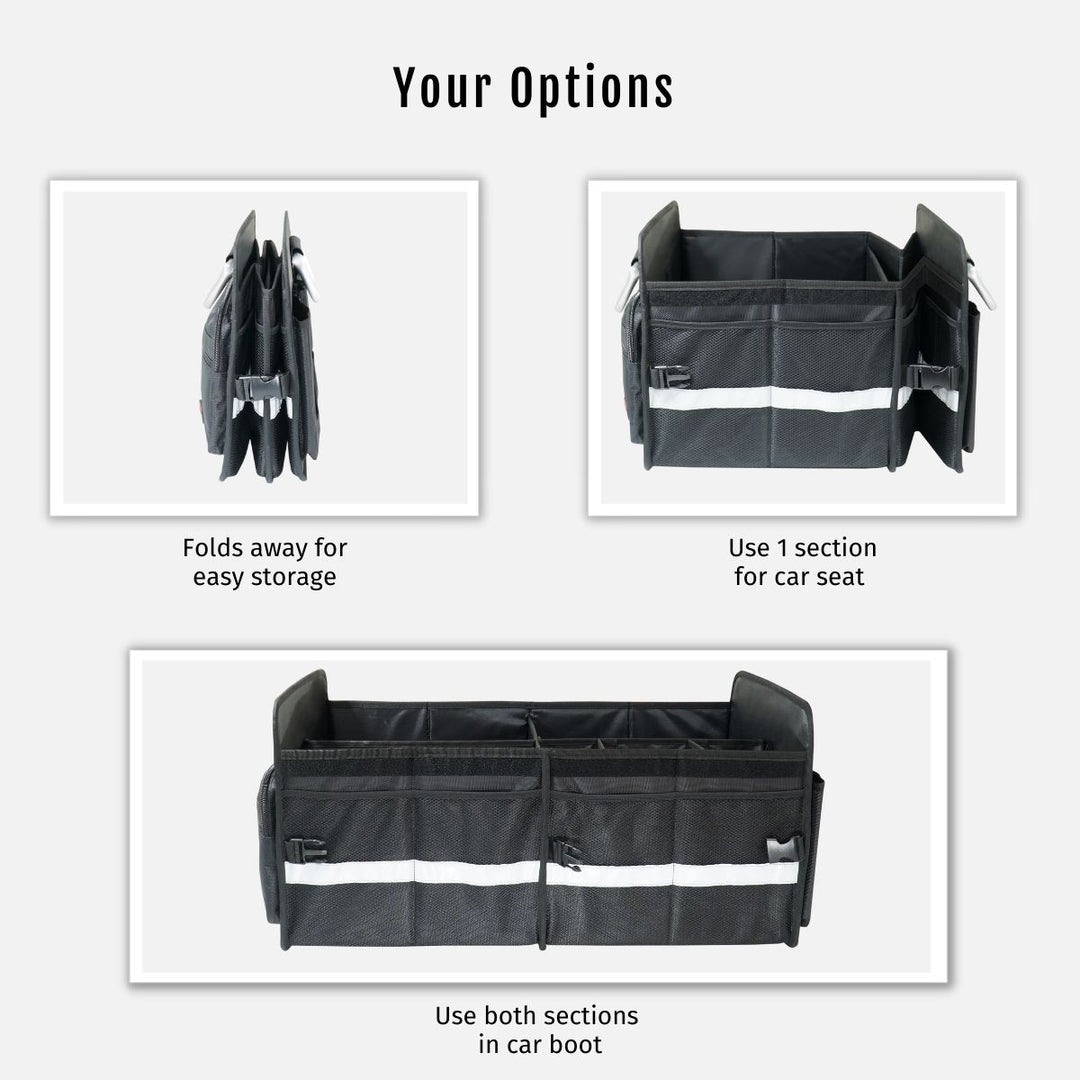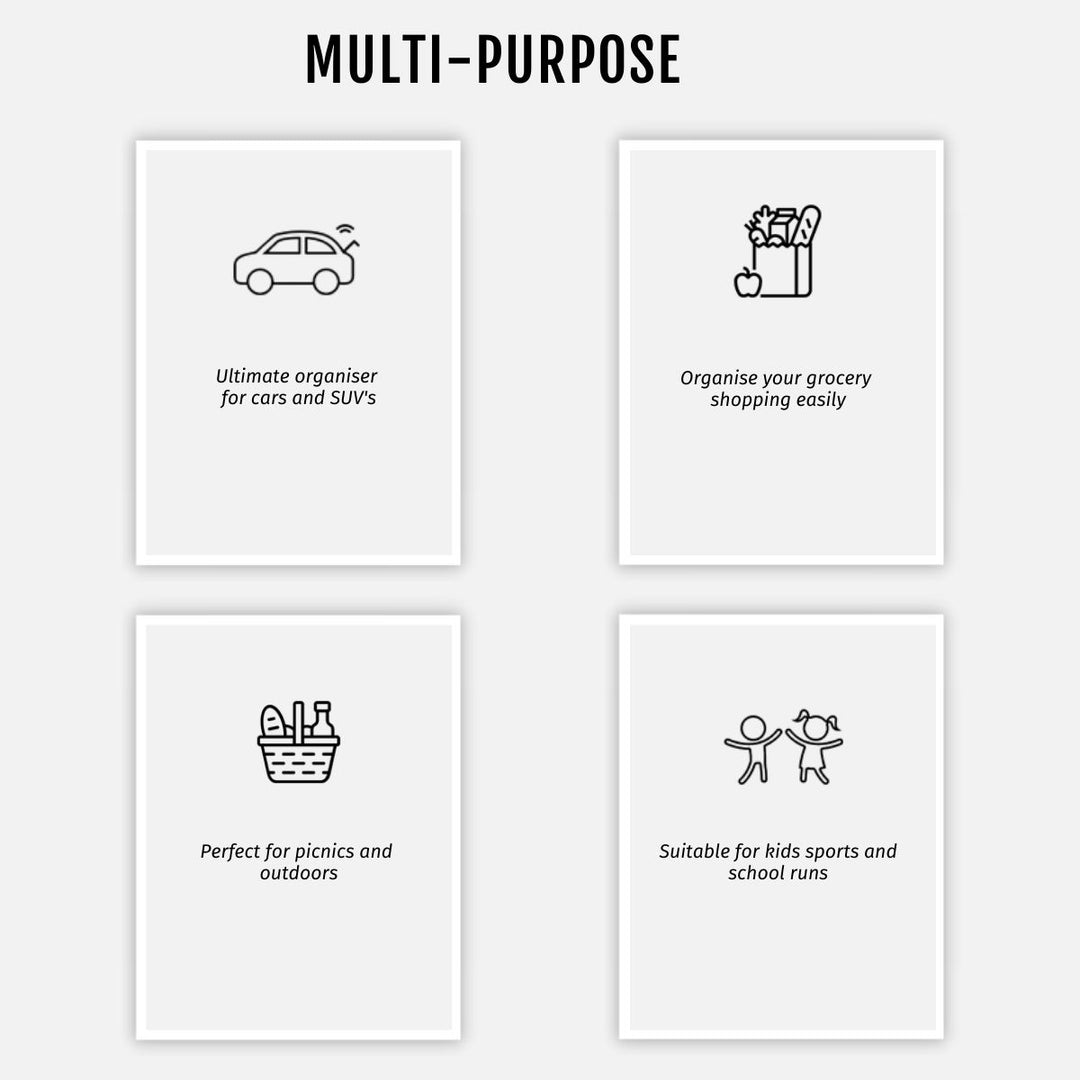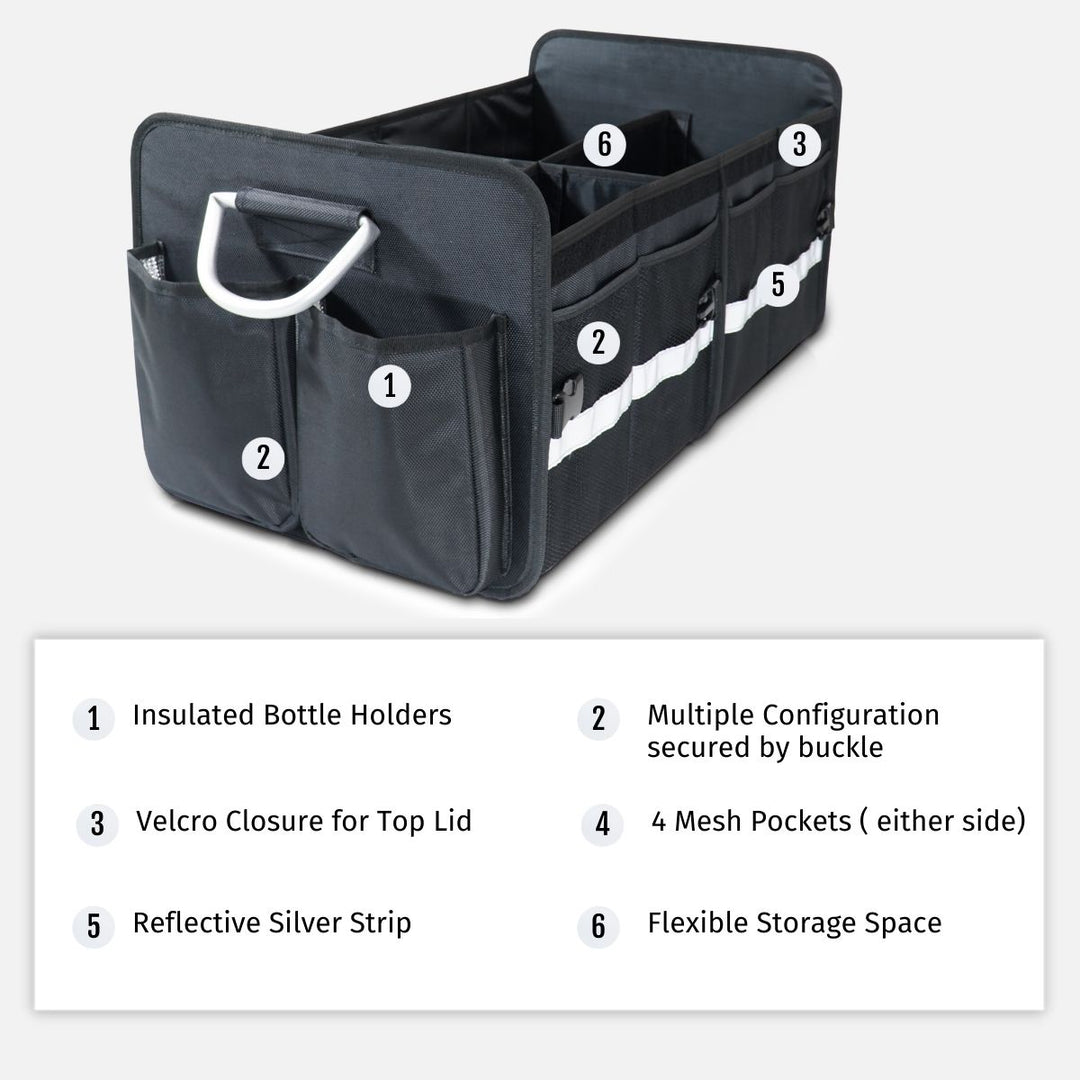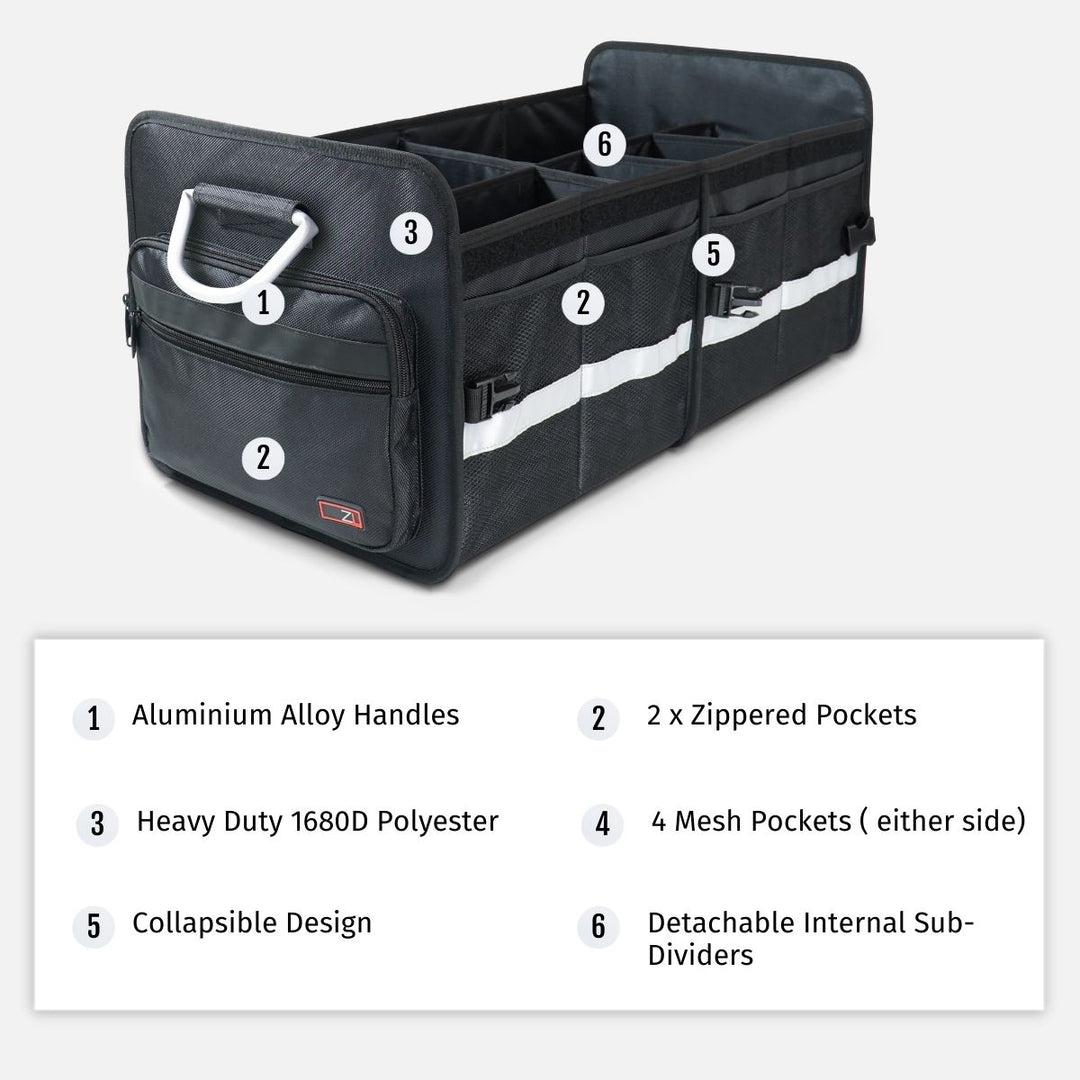 Car Boot Storage Organiser
In stock, ships from Melbourne in 1-2 business days

Free Shipping over $70, AU & NZ. We ship worldwide.
---
Versatile expandable storage - use it anywhere in your vehicle - front seat, back seat, footwells or boot
Stop loose items rolling around in your vehicle
18 storage zones including 2 insulated bottle holders
Water repellant heavy duty & durable design
Perfect for picnics, grocery shopping, kid's sports, camping and more
Introducing the ultimate solution for cluttered car interiors - the versatile car boot storage organiser! Our product features flexible dividers that can be configured in multiple ways to suit your storage needs. Made of heavy-duty, water-repellent material, it can withstand harsh conditions and keep your belongings secure.
But that's not all - our smart collapsible design allows you to use two compartments in larger spaces like your car's boot, or just one for tighter spots like the back seat or footwells. With plenty of zippered and mesh pockets, you can keep your smaller items safe and secure too.
The benefits of our car boot storage organiser don't end there. It's not just perfect for use in cars and 4WDs, but also in vans, caravans, utes, shopping trolleys, picnics, and even on kids' school runs. It's a must-have for road trippers, families, car enthusiasts, and makes an excellent 18th birthday gift.
So why wait? Get organised and make the most of your car's space with our versatile car boot storage organiser.
Ultimate car storage organiser
Store grocery bags, grocery items, tools, kids toys, camping gear, picnic items
Lightweight collapsible design - easily folds away
Multi compartment - use 1 collapsed section on car seat or floor (footwell) or expand both sections for car boot
Move it anywhere - comfortable aluminimum handles makes it easy to move your organiser from car to home to outdoors
Plenty of storage zones - internal zones for bulky items, mesh compartments for quick access items and zippered storage to secure small items
Keep drinks cool - Insulated bottle holders great for keeping bottles hot or cold
Heavy duty construction - made from tough 1680D polyester this organiser is designed to be tough and durable
Removable top cover - protect your shopping from prying eyes or the harsh summer sun
Multiple sub-dividers for customising storage space
Dimensions: 60 x 34 x 30 cms
Weight: 2.0 Kgs
Capacity: 50 lts combined when expanded into 2 sections
25 lts in each individual section
Material: 1680D Heavy Duty water repellant polyester
Interior Details:

Fully lined easy wipe interior
4 removable sub-dividers to create an array of configurations
Heavy duty base boards for each section

Exterior Details:

2 Collapsable sections secured with buckles
2 Zippered organiser pockets
2 Insulated bottle holders
8 Quick access mesh pockets with reflective strip
Anti slip rubber feet
Sturdy aluminium alloy handle
Soft top cover

Warranty: 1 year warranty against manufacturing defects covering materials and workmanship
Origin: China
The fixed middle divider creates 2 identical sections of 34 x 29 cms each. The full organiser extended is 34 x 60 x 60 cms
Yes, you can collapse it when not in use and put it away without taking up bulky space. You can also collapse just one of the compartments to use it in a smaller space, eg: Car Seat.
The external walls are rigid - made out of compressed fibre and wrapped with heavy duty water repellant fabric, so they will stand up by themselves.
The center divider is permanently fixed for strength and is NOT removable, Each main section can be further seperated into 2 sections with the flexible dividers included. One of these sections can be further sub-divided into 2 or 3 smaller sections with more flexible dividers which are also included.
When in the boot there is no specific weight limit for the organiser. If you're picking up the organiser, such as for shopping or a picnic, you would want to limit the weight to a carryable amount, such as 12-14 kgs.
The external walls including the fixed centre dividers are made of compressed rigid board to give it a good strong structure. The aluminium grab handles makes it easy to grab the organiser and move it around. We recommend limiting the weight of items inside the organiser to a safe carryable weight of 12-14 Kgs.
Yes, there are 2 insulated bottle holders built into the organiser on the short side near one of the metal handles.
Yes, there are 2 zippered organiser pockets on one of the short sides and 2 insulated bottle holders on the other side. There is also a full length mesh pocket running along both of the longer sides, accented by silver reflective strips divided into 4 sections to help you secure and organise smaller items.
Yes, there is a removable top cover which can be attached to the organiser with the full length stitched velcro strips on the longer side.
This car boot organiser can have one half collapsed to fit into a smaller space. Whether this will fit in the footwell of the back seat will depend on the size of your car, and how far you like to put your seats back. This is great for keeping a number of essentials in easy reach when you're driving. You can also place this on the back seat of the car with kid's stuff when you are driving with your little ones.
Yes, you can use the connecting clasps on the corner edges to attach another Zoomlite car boot organiser. This is a great way to transform a larger space, such as your back seat or the rear compartment of a 4WD, station wagon or a van. The same clasps are used to collapse the organiser from 2 sections to one or flatpack for storage.
While the organiser has its own built-in anti-slip feet to help grip on carpet, this would also work on a rubber or vinyl boot surface. Once you add items to the organiser it will help to keep the organiser weighed down.
White reflective safety tape on the longer sidewalls enhances visibility in a dark environment. Makes it easy to grab items from the mesh pockets.
Your order will be sent within 1-2 Business days from our Melbourne warehouse.
Please refer to your shipping confirmation email to track your order. If you have any questions, please contact our Customer Care team anytime!