Thank you for purchasing the UV Phone Sanitiser Wireless Charger Pro.
Please read these instructions carefully before your first use.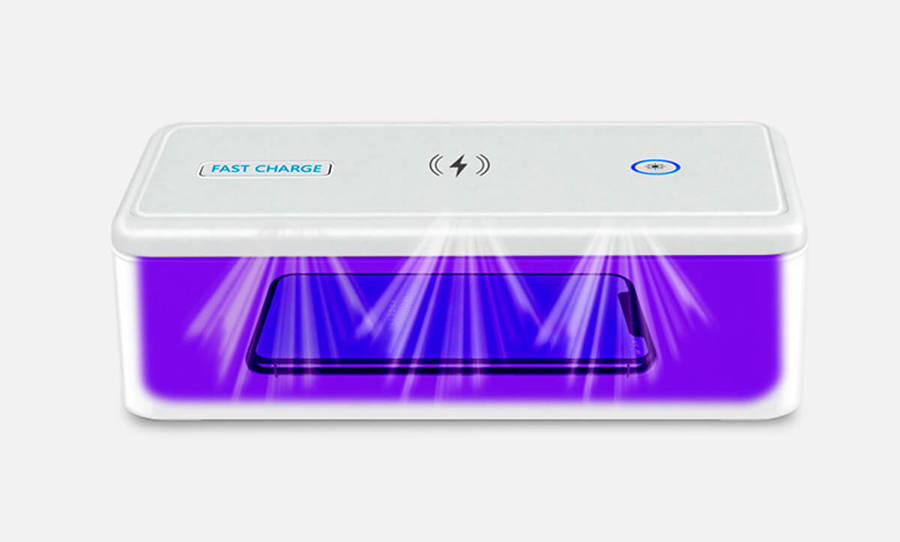 Quick Reference Guide
Connect the supplied USB cable to the UVSAN Pro input socket (located at the rear of the lid) and to a mains adapter. For best results we recommend the optional adapter is purchased, alternatively use a 10w (5V/2A) or higher power adapter. When successfully connected the FAST CHARGE button will light up and the unit will be ready for wireless charging and/or sanitisation.
Place the items requiring sanitising into the box (preferably using the supplied tray) for an all around clean, and close the lid. The lid has a built-in safety feature which only allows the UV lights to come on when the lid is securely positioned on the box.
Now press the button on the lid. It should light up blue. This indicates the 3-minute cycle has started. It will turn off automatically and beep 3 times when the cycle is completed.
We recommend turning your phone or item over for another cycle for a full 360° clean.
You can now take out your items from inside the sanitiser. If the lid is opened at any stage during the sanitisation cycle, the cycle is then stopped and will need to be restarted by pressing the button all over again.
The sanitisation cycle can be terminated by pressing and holding down the round button (once the blue light is on).
Indicator light modes:
| | |
| --- | --- |
| Mode | Indicator Light Status |
| | "Fast Charge" light is always on |
| Wireless charging mode activated | No indication on unit, check your device for status |
| 3-minute sanitisation mode | The blue indicator light stays lit |
| Wireless charging mode inadequate contact | |
Wireless Charging
The top of the lid has a built-in wireless charging pad which is compatible with most Qi enabled devices capable of being charged wirelessly. This pad is indicated by a lightning symbol.
If placed properly and adequate contact is made, your device will indicate the charging status (within 2 seconds).

Important Notes:
• We highly recommend that you use the optional mains adapter and cable for optimum performance.
• Do not use any alcohol, solvents, chemicals or any flammable liquids/hand sanitisers inside.
• Do not use this product in a high temperature or humid environment, as with all electrical appliances please keep away from fire and water.
• Phones with any thick cases or metal/magnetic surfaces may interfere with the wireless charging process. You may need to remove them.
• Fabric (e.g. masks) and folded items (e.g. wallets) may need to be repositioned and/or flattened to expose all surfaces to the UV-C Light, then repeat the cycle.
• This is not a toy and should be kept away from small children and pets.
• This is not user serviceable, should the product not function properly, contact us first. Faulty products may require to be returned to us for inspection and resolution.
• This has not yet been tested against COVID-19 (as of September 2020).