Our Post-COVID
travel survey
results are in

The COVID lockdown has been hard on many people, particularly those in the travel industry. We recently asked our globetrotting insiders to help us understand their attitudes towards future travel. 91.5% of results came from those living in Australia, with 7.2% from New Zealand and 1.3% from other countries. Here are the main highlights of the survey.


Previous Travel Frequency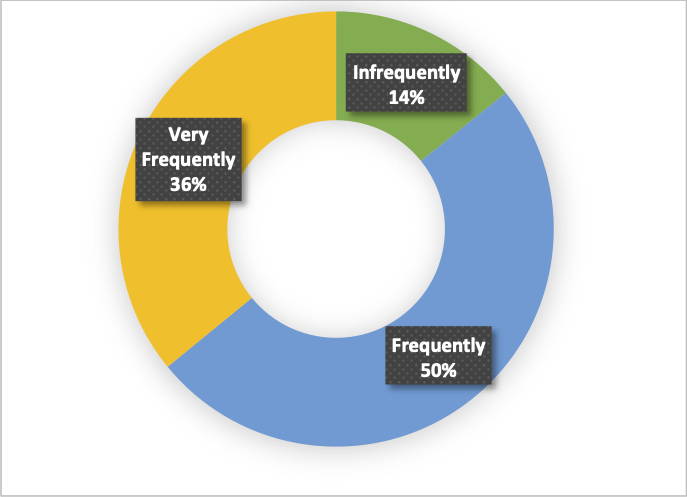 86% of people are going on 1 or more domestic trip each year, with 36% going on 3 or more trips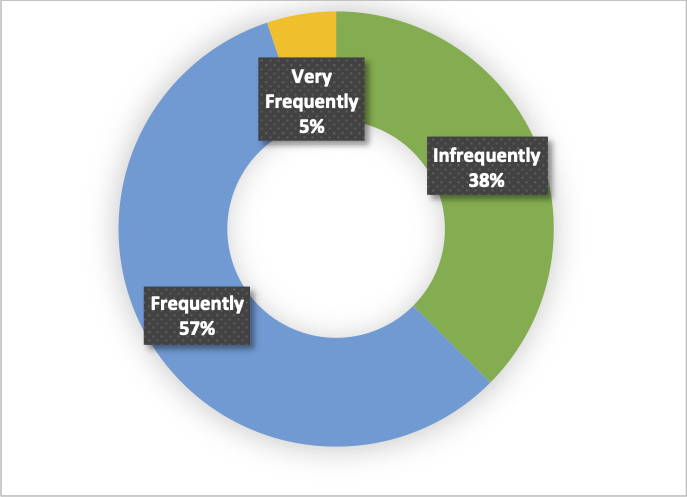 62% of people have been going on 1 or more international trip each year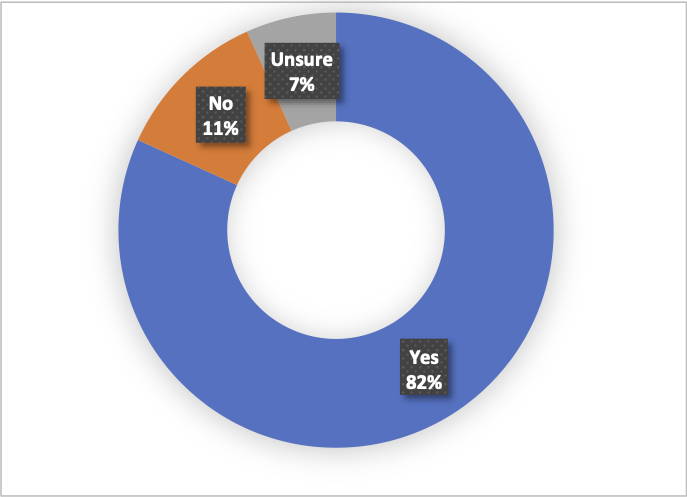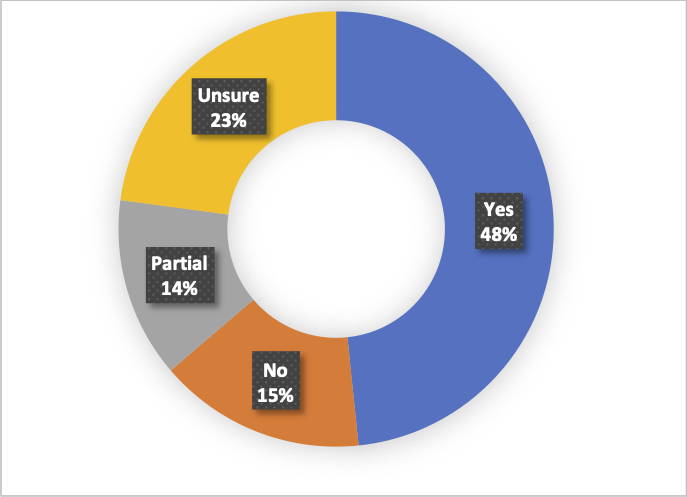 62% of affected travellers have received some credit for the cancelled plans with most getting travel credits so that they can enjoy their holidays later. 23% are still awaiting resolution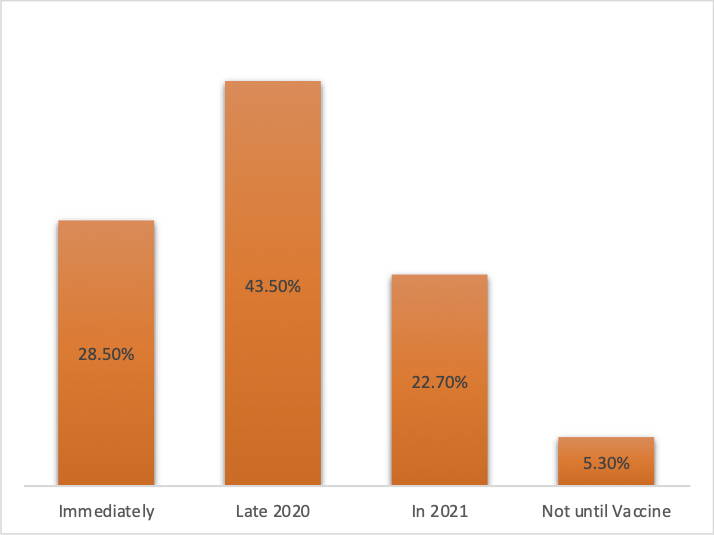 Only 5.3% of respondees will wait for a vaccine before travelling domestically, with most planning trips for 2020 (43.5% Sept to Dec and 28.5% June to August)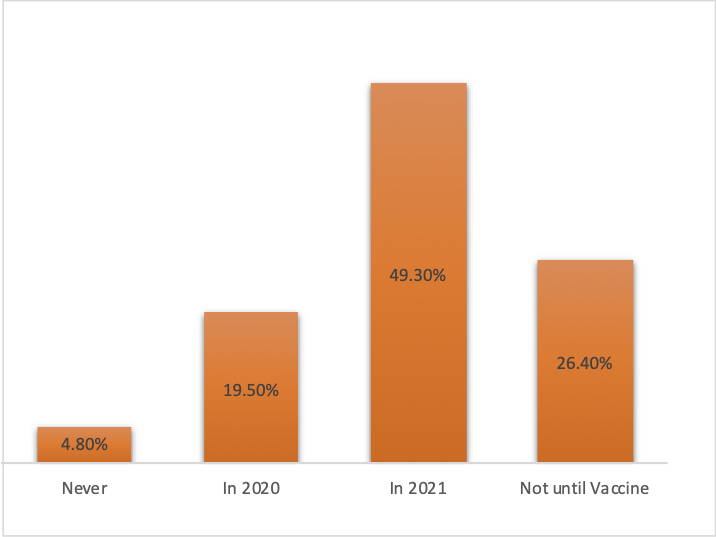 Future International Travel
Only 19.5% of respondents are willing to travel internationally in 2020 if allowed, but more commonly (49.3%) travellers are looking to go overseas in 2021 even if no vaccine is available
Most Popular Destinations for Domestic Travel
1. Queensland
2. Melbourne
3. Tasmania
4. Sydney
5. New South Wales
6. Victoria
7. Brisbane
8. Perth
9. Canberra
10. Adelaide
Domestic Travel Preferences
More than 60% are happy to stay in hotels or resorts while only 43% are willing to stay in Private Rentals or Air BNB
94% are keen to travel by car & 65% are happy to take domestic flights. Only 36% were willing to use a rental car
More than half of our respondents are planning their domestic travel destinations based on COVID cases
Important Factors When Booking Your Next International Trip
A great majority of people (85.1%) will be influenced by the number of COVID19 cases in their destination countries when booking their next international holiday. Travel insurance coverage and cancellation policies are also of great importance, whereas only around 53% were concerned about restrictions placed by the countries they're looking at
What Would Make You Fly Again?
37.2% of travellers not willing to fly until a vaccine is available while 35.2% are happy to fly immediately with no changes 
47% of respondents wanted middle seats left empty when flying and 30.4% wanted all passengers and crew to wear masks
Most Popular Destinations for International Travel
1. England / UK
2. Europe
3. New Zealand
4. Canada
5. Italy
6. USA
7. Japan
8. France
9. Australia
10. Singapore
51% would never consider going on a cruise in the future
More than 80% would travel for at least 3 weeks on their next overseas trip
Your Inspiration & Concerns
"I think as long as everyone adheres to the hygiene advice and social distancing we should be able to travel without too much fear of catching Covid19 until a vaccine is produced.."
"I am looking forward to travel once the pandemic has passed. I'm hoping that there will be a change in the way cruise ships are run regarding hygiene to reduce the chance of any outbreak including Noro, flu etc"
"Don't let this pandemic deminish your travel goals or aspirations.....as long as you have a forward plan and adhere to local and international guidelines you should have no worries in order to fulfil your travel dreams....."
"I was 5 weeks away from leaving for our 2yr planned Italy holiday. The inner disappointment and loss you feel is immense - just moving forward to plan is all that helps🙁"
"I will not travel on ocean voyages but would consider river cruising"
"As our journey will not commence until April 2021, I am optimistic the world will be in a safer climate then."
"COVID has changed the travel thinking of a lot of my friends. It has made us concerned & cautious, both in where/when to travel and where we stand regarding insurance & fees incurred if we have to return home. Also the freedom & costs of travel has become prohibited."
"Don't let fear stop you from enjoying the beauty and adventure within your own country and around the world. There is something waiting for everyone. History, culture, scenery, food, adventure and thrills, whatever your heart desires, is there in abundance. A ship in the harbour is safe but that's not what ships were built for."
"I feel for the travel industry so want to support them by travelling again as long as it's safe and I won't have to self-isolate when I get somewhere. In a way I feel that transport and other things will have more hygiene than they did before so I'm not afraid of catching anything"
---